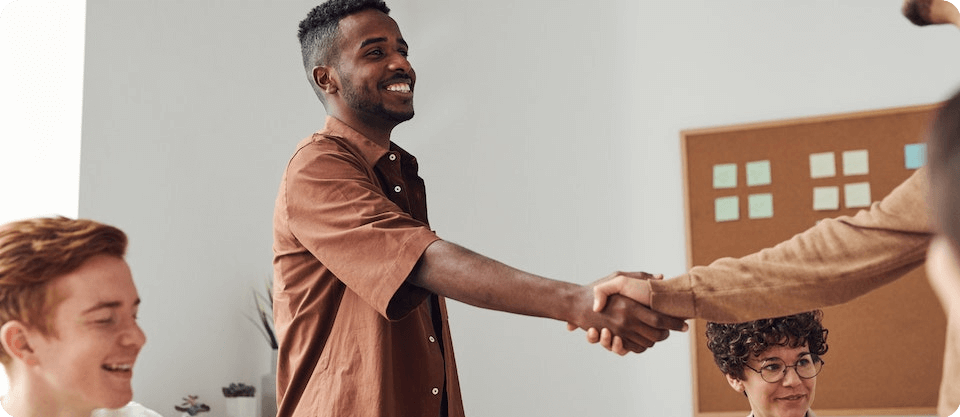 2023 Workplace Trend: Employee Empowerment
In our most recent eBook , we explore five workplace trends that businesses can't ignore in 2023. Our fifth trend takes a look at employee empowerment. 
"The balance of power is shifting towards the workers themselves." (CareerFoundry, 2022) 
The Great Resignation seems to have provoked a large amount of self-examination by employers, leading to improved working conditions, particularly within the tech sector. 
One of the biggest factors being challenged is the pre-accepted meaning of success, which is generally linked to job performance. The pandemic sparked a wave of workers demanding a better work-life balance – the rise of the four-day workweek is proof of this. 
Employees deciding that enough is enough has sent shockwaves through the labour market – which in turn – has made companies take a hard look at what employees want when it comes to their working environment. Unsurprisingly, the list includes more than "as much tea and coffee as we want", which seems to be a common 'perk' in job ads. 
Hmmm…we don't think this is going to cut it for the future workforce. Companies looking to hire and retain staff in 2023 and beyond will have to ditch ads like this.
Employee Experience (EX) is set to explode significantly in the next few years. What was once a small part of the HR department's mandate is set to become one of the most important aspects of an effective HR strategy in 2013, according to an EY survey.
The employee experience, annotated as EX, is the holistic overall day-to-day experience of employees. It is those 'moments of truth' of real lived experience which ultimately determine how the employee feels about their employer. Employees rely on those subtle but powerful experiences; those key moments, to help them decide whether they like working for the
company or not.
In other words – EX is:
A focus on what employees think and feel and what they are experiencing.

Tracking the employee journey, trying to understand what they are going through on a day-to-day basis, and identifying where they are either having a great experience or a not-so-great experience.

Is about identifying those moments of truth, those pivotal experiences which leave a lasting impression on employees.

An emphasis on improving that experience and focusing on making sure that what employees are experiencing leaves them with a favourable perception of the employer.

Effectively, EX is the practical delivery of the employee value proposition. It is about turning the promises and expectations set by the EVP into a real-life lived experience for people in the company.
What influences the experiences employees have? What do organisations need to focus on to improve the EX?
Firstly, EX is dramatically influenced by the HR processes and working practices of the organisation. HR processes determine the governance and management of people. Effectively, they define how people are treated in the organisation. Things like autonomy, freedom and the ability to choose are governed by HR processes and policies, and these dramatically influence. They help create an employee's sense of being valued, and similarly, they can make people feel devalued, dehumanised, and disenfranchised.
2. Leadership and relationships
Leadership and relationships also influence the EX. This relates to the relationship between employee and direct manager, as well as the quality of relationships in the team. The employee's sense of being connected to others is paramount. We know that this satisfies a deep-seeded need in every human, and the quality and authenticity of relationships at work make a massive difference to what employees are experiencing. Their relationship with their direct manager, their boss, will colour the employee experience to a large degree.
If you work for somebody who you like, who you respect and whose judgement you trust, that will have a massive impact on creating a positive employee experience. The inverse is also true. Therefore, leadership skills and the competence of management in a business make a massive difference in how employees experience relationships in the organisation and how that affects their EX.
If you are trying to do a job, but you do not have the systems, the processes, and the technology you need in order to be effective, you can imagine that your EX is not going to be positive. 
The right tools and the right technology are vital. It creates smart and convenient working. Having to work on outdated or suboptimal technology, will frustrate the employee and
undermine their EX. 
Giving employees the tools to perform at their best is vital, as well as providing enabling technology to support new working practices, like virtual working and virtual collaboration.
The culture of the company will also influence EX. In fact, it is probably the biggest factor in creating the EX. The way we do things around here directly affects what employees experience on a day-to-day basis. 
We know that culture is generated by the dominant mindset, the dominant narrative, and the dominant behaviour patterns in the company, and it stands to reason that what employees are experiencing across those three dimensions dramatically affects how they feel about the organisation. Organisational culture can either improve EX, or it can undermine it.
Another great component of EX is the perception of development opportunities. Employees need to feel like there is room for growth, that there is scope for promotion and the attainment of more complex roles. All employees want to improve and progress. They want to climb that ladder and achieve a sense of growth and development, whether it means a promotion or simply an enhancement of personal skills. The idea is that employees want to feel like there's traction in their careers – that is a very positive contributor to EX. The minute that employees feel that they are stagnating; they are not developing their skills or competence, or if there just are not opportunities in the organisation for growth, that will immediately negatively impact their EX.
Lastly, the physical environment that the employee finds themselves working in. Is it conducive to creativity and free thinking? Is it convenient? Does it allow them to have the best ergonomic factors at their disposal? All of these components influence and create the employee experience.
Industry take - What are employers currently doing to improve EX?
According to CareerFoundry, improving EX can take the form of proper mental health support (a factor that's importance has only been made stark by the pandemic), enhanced sick leave or more sick leave, more annual leave, funding towards employees' household or travel expenses, workplace training as well as product discounts (if applicable), but also proactively giving employees more recognition for their work can go a long way. (CareerFoundry, 2022) 
With the labour shortage estimated to continue into 2023, it's no surprise to learn that 70% of large employers are planning benefit enhancements for 2023, according to a Mercer Report on Health Benefit Strategies for 2023. 
In the Fast Company article, both of the job sites, Indeed and Glassdoor, found that employers are increasing their benefits and advertising them in order to attract talent. 
"In the US, these benefits provide employers with ways to differentiate their organisations and sweeten job offers, especially in occupations at the lower end of the wage scale that typically require in-person attendance, like childcare or food preparation and service," reads the article. 
"Researchers found that between 2019 and 2022, the percentage of low-wage sectors offering paid time off as a benefit increased significantly from 17% to 34%. Employers are also offering more mental health benefits. In 2022, 63% of benefits reviews on Glassdoor mentioned "mental health care," up from 49% in 2019." (Hess, 2022) 
Providing learning and development
LinkedIn's 2022 Global Talent Trends report reveals that the top two priorities for today's workers are upskilling and opportunities to grow within their current company, only just coming in behind compensation, work-life balance, and flexibility.
The report states that this is partly due to the pandemic but is also a result of shifting job requirements and an uncertain job market, which has left employees feeling unprepared for the future for their next career move and desperately in need of more organisational support. (Linkedin.com, 2022) 
In an article written by New York Times Bestselling Author & Managing Partner of Workplace Intelligence, Dan Schawbel, he writes that new research from his company and Amazon reveals that "58% of employees are afraid that their skills have gone stale since the onset of the pandemic and 70% feel unprepared for the future of work."
He continues to point out that moving into 2023, workers will be laser-focused on remedying this situation: with 89% saying they're motivated to improve their skills this year and 88% are already dedicating a significant amount of time and effort toward upskilling.
What has become clear from the various reports on this topic, is that workers need more support from employers. 
In an article by Forbes, it states that "around 2 out of 3 workers said it's likely they'll leave their company this year because there aren't enough opportunities for skills development or career advancement, or because there's no way for them to transition to a different job or a new career path." 
In the coming year, this will create an imperative for businesses to offer better learning and development opportunities as a means of both retaining their current workforce and attracting new talent to their organisation. 
Increasing financial support
In 2023, we are likely to see employers doing more to directly support their employees' financial well-being – one reason for this is because financial stress affects productivity.  Research from Workplace Intelligence and SoFi found that, on average, people spend more than 9 hours a week dealing with their financial issues at work. 
In a LinkedIn article, Managing Director of Workplace Intelligence, Dan Schawbel, says that one thing we're sure to see is an increased expectation for employers to help people with their financial situation. 
Helping financially could include various offerings like more affordable benefits or providing tools and programs to bolster employee's financial well-being. And while some employees expect their companies to improve traditional benefits, such as retirement matching, people are also looking for new benefits such as an emergency savings fund, homeownership assistance or being paid in cryptocurrency. (Linkedin.com, 2022)  
The Mercer Health Benefits Strategies Report states that 75% of companies offer (or plan to offer) tuition reimbursement. "Companies like Amazon are leading the charge by covering tuition even for workers who have been at the company for only three months." (Mercer, 2022) 
The report continues to say that Improving healthcare affordability will also be a key focus area as 41% of businesses have a low- or no-deductible health plan in place, while 11% are considering it, and others are offering virtual care solutions to improve access and cut costs.
Ultimately, the wider change in the world of work means that companies need to understand that in order to succeed in the future, they are very quickly going to have to make employment within their organisation an attractive environment to work in, with varying benefit offers to assist and better support their employees. 
Download our full eBook to learn more about some of the other 2023 Workplace Trends.
To learn more about how Upskillist can help you click the button below