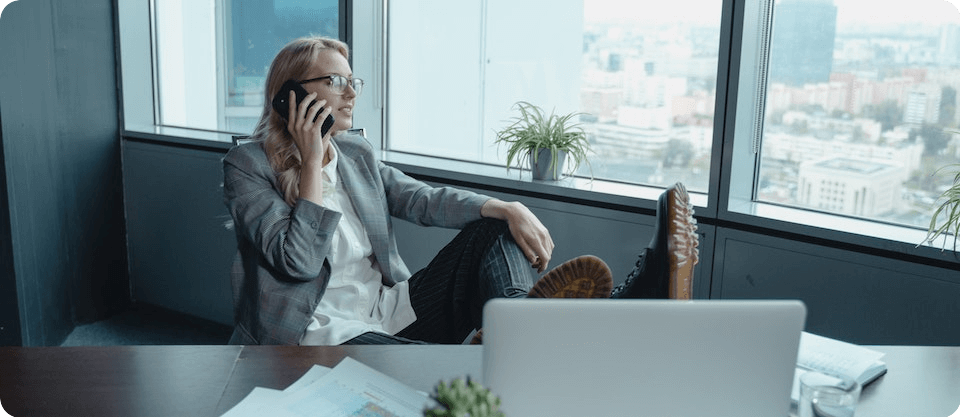 2023 Workplace Trend: Work Flexibility
In our most recent eBook, we explore five workplace trends that businesses can't ignore in 2023. Our first trend is offering work flexibility to employees. 
There is no doubt that the COVID-19 pandemic has forever changed the way we work – from fully remote working to hybrid working and even the trial of a 4-day work week. According to an article by CodeSubmit, The Ultimate List of Remote Work Statistics in 2022, 75% of global workers believe that remote work is the new normal. (Phillips, 2022) 
The number of remote-first companies continues to multiply as we discovered that employees could be as productive, if not more productive, working from home – and just as many companies are adopting a hybrid working approach.
In McKinsey's American Opportunity Survey, 58% of employed respondents said they work remotely part of the time. While an additional 87% of employees who are offered flexible work options take advantage of the opportunity and spend an average of three days a week working remotely. (Hess, 2022)
In 2022 we also saw a six-month trial of the 4-day work week. The results are now available from the first pilot program in North America and Ireland.  
The White Paper – The Four-Day Week states that evidence of productivity benefits from reduced working hours is mounting. The White Paper continues to report that the UK-based New Economics Foundation found that a "normal" working week of 21 hours could help address a "range of urgent, interlinked problems", including "overwork, unemployment, over-consumption, high carbon emissions, low well-being, entrenched inequalities, and the lack of time to live sustainably, to care for each other, and to simply enjoy life".
The Four-Day Work Week White Paper took a look at various trials as well, such as the trial by the Swedish City of Gothenburg, in 2014, where they trialled a six-hour work day for government employees and some private businesses joining in. CNN also recorded a number of companies in the US that have implemented the four-day workweek and found that there was an improvement in staff morale, retention and quality of output. (Day, 2018)
Ultimately, remote and hybrid work models are here to stay for the foreseeable future. The sooner we accept this new normal, the sooner we can adjust, optimise and grow.
Building a remote and hybrid workforce
A fully remote model means that all employees work remotely from anywhere in the world. In contrast, the hybrid workplace model is defined as a model in which organisations adopt remote work combined with in-office hours. 
However, given that there is no fixed methodology in how companies balance on-premise hours with remote hours, it may vary significantly between companies. One of the key justifications behind adopting such a model is that it provides employees with an opportunity to schedule work around their lives as opposed to working during a specified time in an office environment. 
Over the past couple of years, organisations that have adopted the model have had to ensure that employees have access to the necessary resources in order to preserve their productivity while attaining organisational goals. 
With that being said, the question arises, how do companies make the most of a remote or hybrid workplace model and what are the benefits for all stakeholders?
Understanding the needs of digital natives
It is no secret that today's labour force is a lot more digitally literate compared to a couple of decades ago. One could argue that this phenomenon is a result of the ubiquitous nature of technology and the fact that advancements in technology have disrupted the way we communicate and achieve organisational goals. 
Communication platforms such as the ever-popular Zoom, Google Meet and Microsoft Teams have-rendered office meetings a thing of the past. That is not to say that face-to-face meetings do not bring value to teams; however, if the main objective of team meetings is to establish weekly or monthly goals while reflecting on those goals, then it becomes quite evident that virtual meetings are a great substitute for face-to-face meetings. 
An industry report by Lifesize (2019) found that 78% of teams rely on video conferencing tools for team meetings. The report also suggests that 51% of employees believe that as technology continues to advance, video conferencing tools will be equally or more important than artificial intelligence. 
It goes without saying that the modern workforce must be readily equipped to engage with these technologies in order to maintain collaborative efforts within an organisation.
The impact of the hybrid model on productivity
One of the most interesting insights of the model is its impact on employee productivity. 
According to a survey by CoSo (2015), 77% of employees reported being more productive while working from home and are 52% less likely to take time off from work. It's easy to assume that the onset of the recent pandemic may have significantly increased these figures. 
Further to this, Atlassian (n.d.), a popular software company which specialises in developing software for project management purposes, notes that 76% of employees avoid working in-office when they need to concentrate on getting important work done. Golden & Gajendran (2019) posits that this is especially true for employees with highly complex jobs who require minimal interaction with stakeholders.
Costs associated with remote and hybrid models
A key aspect of implementing a remote work or hybrid workplace environment is assessing the nature of expenses for both employers and employees. For employers, the incentive is to reduce costs on an infrastructural level. A typical example is that the need for massive office spaces would naturally decrease as a result of having a portion of employees work from home instead.
This directly impacts building expenses, such as the cost of rent. If companies are able to maintain overall productivity within smaller office spaces, which are more affordable, they would realise increased profits that could be reallocated to more meaningful assets. This allows companies to achieve greater economies of scale. 
For employees who work from home, there is a similar benefit to be gained in that the need to travel to work is not always a requirement. CoSo (2015) reports that 30% of employees who work remotely are able to save more than $5,000 on an annual basis without the expenses associated with on-site work and travelling costs. On the other end of the spectrum, a study by Buffer (2019) highlights that not all companies cover the costs of remote employees in co-working spaces.
The cons of the hybrid or remote work model
It is all good and well to highlight the benefits and trends of implementing remote or hybrid workplace models, but it would not be a fair assessment if one does not consider the flaws in such a model. For starters, there are social implications for employees who spend a vast amount of time working from home. 
Buffer's (2021) most recent State of Remote Work report found that 26% of employees working remotely find it difficult to unplug from work even when at home, 17% of respondents noted that the onset of loneliness was also a challenging factor, while 16% of respondents highlighted that their biggest challenge was due to distractions at home. 
Sijbrandij (2020) points out that there is often a divide between those who work onsite and those who work remotely. When production and outputs are not met based on company expectations, those who work on site may be of the opinion that those who work remotely are often to blame, which suggests that the view of onsite employees is that remote employees are less productive.
Creating a culture in a remote or hybrid working environment
With companies all around the world investing in the remote and hybrid workplace model, it is hard to ignore the benefits realised and weighing those benefits against the drawbacks can be quite subjective in nature. 
One thing is clear; companies are less inclined to transition back to the legacy models of onsite-only work environments. A plausible solution moving forward would be to ensure that there is an optimal balance within companies that adopt the hybrid model. That is to say that employees should be provided with adequate resources to ensure productivity and team morale remains high. 
Apart from this, social support and building a strong culture should also be considered valuable resources to remedy some of the challenges faced by employees. (Super Admin, 2021)
How to create a remote culture
Creating a culture remotely will take much more effort than creating a culture in the office. You should already have in mind the culture you want to create, as well as how it will be done. 
Maintaining this culture will begin in your onboarding process of new hires and be carried out through your team meetings, activities and communications.
Communication is key to maintaining the culture in a remote working environment.
8 Steps to build a remote culture
1. Develop trust between the company, employer, manager and employee
Diversity is identified by different characteristics in a group of people, which make each person unique. Having diversity in a workplace leads to a deeper understanding of each person employed by the company. Diversity celebrates and embraces the differences in each person and contributes to a better working environment.
Diversity includes race, ethnicity, gender, physical ability, religion, personality type, thinking strategies, learning styles, culture, knowledge and experience.
By creating diversity amongst these factors, nurturing them, and creating a safe, positive workspace, diversity can be achieved.
2. Company values, mission and goals
Each employee, whether new or old, should be aware of the values, mission and goals of the company. The mission of the company should be clear, communicated regularly, and enforced by upper management. This reminds people that they are all working toward a goal together, creating a feeling of teamwork, even if they are working remotely. Once employees are all aware of the values of the company, culture can play a large role, leading to the success of the business.
A monthly update or survey can also be sent to employees to establish how they are feeling in their professional as well as personal capacity. This shows the employee that they are a priority to the company, as well as their physical and emotional well-being.
When remote hiring, ensure that you are taking the time to ensure that the onboarding of the employee is supportive of the right resources. If a new employee is working full-time remotely, onboarding might take a little longer.
A great way to start the onboarding process is by spending time with the employee introducing the company, the values and the core concepts of the company to the new hire.
Ensure that the new employee is aware of what they will cover in the onboarding by providing them with a daily planner, which includes meetings that they will be expected to attend too.
If there is an opportunity to onboard in groups, this would be ideal for creating a community between the new hires and helping develop a culture among the employees. If onboarding in groups, appoint a lead person dedicated to the new employees that they can reach out to if they need to.
Just like you would in an office, introduce the new employee to the rest of the organisation. This can be done in a fun and creative way. Create fun questionnaires that the new employee should complete, and send to the team, along with company-specific information about the new team member (role in the company, company email and contact details).
Encourage one-on-one meetings with existing team members for the new hire to get involved or smaller team meetings where the new hire gets to meet a few people at a time. For larger organisations, this can be overwhelming for the new employee.
4. Establish daily or weekly team or company rituals
When working remotely, it is important to do regular check-ins, daily team meetings, and bi-monthly or monthly company meetings. This allows the new hires as well as existing hires to meet and greet, to chat if these meetings are informal, or for the management to check in with employees or update the employees on the company's progress and targets moving forward.
Informal team meetings can include coffee dates together, breakfast dates or even happy hours on a Friday afternoon virtually or planned team building activities. These meetings can also be themed to create some fun too. It is suggested that team leaders and management encourage employees to make use of their cameras and show their faces during meetings.
Set up a time for kitchen conversations, where there is no chat of work or production but merely more informal communication. Regularly encourage upper management to get involved in these, the same way it would likely happen in the office.
5. Set time aside for regular one-on-ones
Managers and leaders need to check in regularly with new as well as existing employees on a one-on-one basis. This allows the employee to build a relationship with management so that they do not feel like a robot sitting in another location.
This can also be used as an opportunity to gather feedback from the employee about how they are progressing, in a personal capacity, as well as in the company, their feelings on the company's approach to the working environment and use this as an opportunity to reflect and make adjustments. This promotes transparency within the company and encourages an environment where every employee feels they are contributing.
This should be done not only during the onboarding process but also once the employee has settled into their position.
6. Create opportunities for growth within the company
It is important to create opportunities for growth within the company. This will build trust among the employees, as well as build a platform for learning and growing.
Individual growth, as well as group growth, should be encouraged, and this can be done through peer-to-peer training, regular performance reviews, short-term and long-term goal setting, and training workshops.
7. Create the platforms of communication
As noted, a remote organisation cannot function without communication; it is the key factor and could make or break the remote culture of a company. When working remotely, it is important to establish channels of communication with employees, and this encourages open communication between employers and employees.
Anything of high importance should always be shared via in-company email. Daily discussions can be shared via an update chat on any instant messaging platform. Should it be of high priority, it should also be shared via email.
A casual group chat should also be created, encouraging employees to communicate with each other during the day- this can be the kitchen chat or the water cooler chat. Create fun activities on this chat too, like challenges for the day, the most random news headline of the day, and even a theme for the day.
A guide should be shared with all employees on the tools used for communication, the platforms they should use when wanting to communicate, and how it should be done in order of importance.
It is also important that all employees stay online during working hours to avoid any miscommunication or lost messages. These can be left on all day, and the employee will receive notifications should a message be sent, keeping the doors of communication open.
New hires should be added to group platforms as soon as possible so that they feel included in any communication and changes within the organisation.
8. Prioritise health and well being
It is assumed that employees that work in a remote environment have an ideal work-life balance. However, this can commonly be mistaken. Remote employees may benefit from skipping the daily hustle and bustle of traffic, but it is easy to slip into habits of working overtime and not knowing when to switch off.
Employees can feel if they are ill or want to take leave days, that they could be shy to request it, as they are working from a home environment anyway. This can lead to a lack of healthy choices and feeling overworked.
Making health and wellness a priority shows the employee that the organisation's concern is their well-being and not just based on productivity. Creating an employer/employee health check-in regularly is a great place to start.
Discuss any challenges the employee might be experiencing, discuss plans for leave, and discuss how the employee is making time for relaxation during the week. It is also a good idea for the company to monitor the employees' working hours and raise the flag when they see an employee is putting in a lot of time working and less time for themselves during the day. This can also demonstrate recognition of hard work.
Sending out a care package from the organisation on occasion can also help the employee feel part of the company's culture on wellbeing and self-care. It shows the organisation values them as employees too.
Remote working has benefits employee productivity and has seen a remarkable increase. This environment has improved employee satisfaction, reduced absences, expanded the talent pool, and saved the employee money, leading to increased employee happiness and well-being.
Download our full eBook to learn more about some of the other 2023 Workplace Trends.
To learn more about how Upskillist can help you click the button below