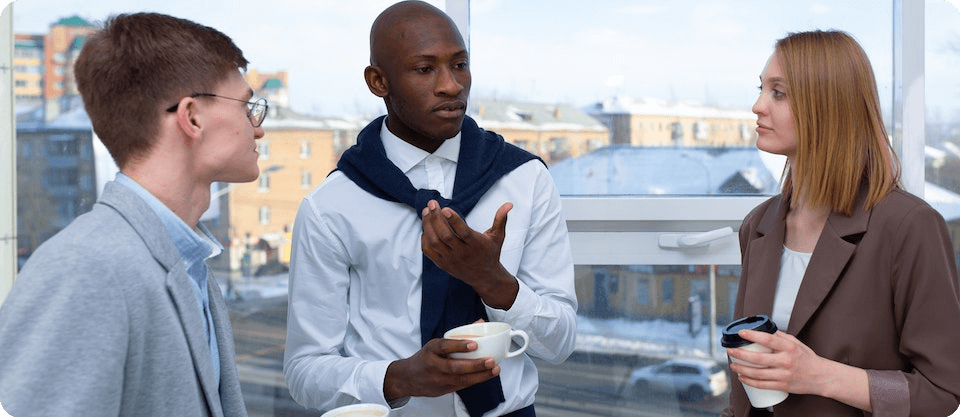 5 Steps to Accelerate Employee Development
Our Human Resources (HR) Guide to Accelerating Employee Development will help you overcome obstacles and accelerate employee professional development for the benefit of your organisation, as well as your employees, in 5 easy steps.
We are going to give you a sneak peak into these 5 steps.
Step 1: Set clear goals and objectives
The foundation of success is whether or not the development plan benefits the organisation and meets its short and long-term needs. Where return on investment is evident, either through meeting legal requirements, improved performance, better employee retention or increased productivity, further investment and support will follow, making this the top priority when planning development.
It's important to understand your company's mission, vision, and values as well as what you hope to achieve through employee development. This will help you align your efforts with the broader goals of the organisation and effectively prepare your workforce for the needs that are sure to arise.
Once your objectives and organisation needs are identified, a balanced scorecard or the SMART goals acronym (Specific, Measurable, Attainable, Relevant, Time-based) can be used to ensure goals are actionable and achievable. 
Download the full guide to learn more about the various goals that you can set for your organisation's learning and development as well as a balanced scorecard.
Step 2: Identify development areas
With your goals in mind, it's time to consider the second success factor, the abilities or competencies of your employees. The idea is to differentiate between skills available and skills needed per employee and focus development efforts on strengthening the weakest skill needed within the department, team or position.
By identifying weak areas you are able to improve the impact of your learning endeavours. It allows you to accurately address the skills needed and ensures employee engagement by increasing the relevance of the training topics. 
Needs can accurately be identified by conducting a skills gap analysis, which includes a simple 4-step process. Download the guide to get access to these 4 steps.
Step 3: Create a custom development plan for each employee
With skills gaps identified, we can focus our attention on creating custom or bespoke development plans for each employee, which is paramount in the development of professional skills.
Not only do employees differ in their abilities, interests, experience and education, but they also greatly differ in how they interact with their environment and general characteristics, more commonly referred to as their soft skills.
Imposing the same development strategy for both would result in the disengagement of the top employee and a widening skills gap. 
Instead, we suggest bespoke pathways to develop each employee. Creating individual professional development plans ensures that employees remain engaged and interested in their learning as it incorporates development that is beneficial and interesting to them.
Learn how to easily create a custom development plan for your employees in our guide
Step 4: Offer a variety of training opportunities
Professional development opportunities come in different shapes and sizes. Providing a variety of options will prevent stagnation, it will keep learning interesting and promote a healthy learning culture.
Learning can be diversified in four ways:
Varied professional development methodologies

Access to both long and short courses

A combination of hard skills and soft skills development

Wellness Training 

Learn more about each of these training methods when you download the full guide.
Step 5: Encourage employees to take ownership
Following our first four suggested steps, you are well on your way to creating an engaging development plan. 
Our final step is a focus on motivating employees to take ownership of their learning, thus encouraging a partnership of development with equal investment from both employee and organisation.
Each employee is different and the willingness of an employee to participate will be greatly influenced by the supporting leader or manager. 
Generally, employees are encouraged to take ownership of their learning when they are aware of the benefits, the learning requirement does not add additional stress to their day-to-day endeavours and the topic is either of interest or beneficial to their immediate situation.
Learn how to optimise learning and development engagement with our  Guide to Accelerating Employee Development.
To learn more about how Upskillist can help you click the button below