Alternative Therapies for Employees
Empower your employees to lead spiritually fulfilling lives with this online alternative therapy for employees course. Balancing the body, mind and spirit allows us to live more enriched lives. Wellness is the absence of disease in the body, but not only that, the overall feeling of physical, mental and emotional wellness. When these are not in balance with each other, we can feel unwell. Many factors have made the modern-day approach to medical conditions simple, by diagnoses, and medication. There are many online therapy courses, alternate therapies allows you to look at the body as a whole, find the root of the problem, and treat the body mind and spirit to obtain internal homeostasis. 
Key Learning Objectives:
How to apply aromatherapy and essential oils

How to identify reflexology points with a comprehensive understanding of foot mapping and zone therapy

The importance of a healthy diet and an active body, and how they correlate to overall wellness

Comprehensive knowledge of pressure point therapy, acupressure and acupuncture

Key components of mindfulness and how to develop day-to-day skills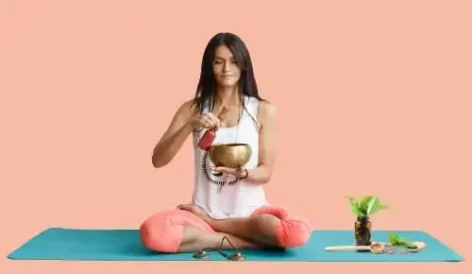 Anyone currently in the beauty industry, aspiring beauticians, anyone interested in alternative therapies for spiritual development.
Develop employees who are capable of developing and looking after their spiritual well being.
Upon completion of this leadership training course your employee will receive an accredited certificate assessed by global academic partner, the CPD Certification Service.

1.The Wellness Lifestyle
Do you know what it takes for complete wellness? Do you know there are 8 dimensions to wellness which should be fulfilled in order for you to feel balanced and complete? Wellness is the absence of disease in the body, but not only that, it is the overall feeling of physical, mental and emotional wellness. This will determine the overall state of wellness in the body. When these are not in balance with each other, we can feel unwell. This lesson will teach the 8 dimensions to wellness, and how to balance them with an introduction to alternate therapies.
2.Introduction to Aromatherapy
Plants are nature's healers. This lesson will introduce essential oils, how they can be applied to the body, and important safety guidelines when using essential oils.
3.Reflexology Mapping
Reflexology dates back over 5000 years, although it cannot be traced back to one such civilisation. This lesson will explore in detail this ancient therapy, and how it came about as an alternate treatment. The lesson will also delve into what can be expected from treatment and introduce the different zones and maps of reflexology.
4.Ayurvedic Healing
Ayurveda is considered one of the oldest healing therapies. Originating in India over 5000 years ago, Ayurveda means the science of life, or alternately referred to as the mother of all healing. This lesson will introduce Ayurvedic healing, and look at the top herbs that are used in an Ayurvedic diet. Lastly, you will explore the different Ayurvedic treatments.
5.Introduction to the Body Systems
From what you have learned in the previous four lessons, you need to balance the body, but in order to do that, you need a better understanding of how the body works. The body is made up of millions and trillions of cells that all need to work in harmony with each other for proper functioning. This lesson will explain the basic building blocks of the body and introduce the different organs and systems of the body, and how they work in harmony with each other to bring about balance.
6.Introduction to Meditation
Do you have a longing to be more in touch with who you are? Do you wish to find your own unique path in life, and wonder who can guide you? Or would you simply like to be able to feel more peace and calm, manage stress better, and experience greater joy? Meditation forms the training ground for your mind to learn this state of calm, and for your body and emotions to be less affected by your thoughts. It helps you go above, surpass or supersede your mental processes. In this lesson, you will learn about the core components of meditation and how to train your mind in this moment-to-moment awareness.
7.Massage
Massage is regarded as one of the oldest healthcare services known to humans. Today, there are over 80 different types of massage treatments with emphasis on different body parts and types of treatment. In this lesson, you will be introduced to different massage movements, and different massage techniques, so that you can incorporate them into your daily routine, and understand what effects they have on the systems of the body.
8.Introduction to Fitness
Fitness has been said to be the best kept secret when it comes to preventative medicine. In lesson 8, you will explore the history of physical fitness, from the primal ages through to the current fitness culture. Dive deeper into the world of fitness and wellness through exploring the physiological and mental effects and benefits of physical fitness, and lastly looking at how fitness can be used as a form of alternate therapy.
1.The History and Origin of Aromatherapy
Essential oils are fascinating; the fact that such small plants can create and have such major physical and psychological changes is incredible. Not much is known about the history and origin of essential oils and plant extracts, but the use of plant extracts and essential oils is apparent in ancient times. In this lesson, you will look into the roots of essential oils and how they were discovered. You will also look at the different extraction methods, and how these oils turn from flowers and herbs into the powerful oils you can use on a daily basis.
2.The Integumentary System
The skin is an amazing organ. The layers of the skin, the complexity and the functions of the skin all work together to protect the body. The aging process, sun, hormones and diet all affect how the skin functions, and at the end, will affect the appearance of the skin. In this lesson, you will look at the body's largest organ, how it functions, and how you can care for it on a holistic level.
3.Energy Channels and Reflexology Techniques
This lesson will discuss the energy channels in the body, and will also include the techniques of application during a reflexology treatment.
4.Nutrition Basics
This lesson gives students a basic understanding of healthy nutrition, explaining the basics of proteins, fats and carbs, and understanding portion sizing.
5.Advanced Aromatherapy
This lesson will guide students into choosing the correct essential oils, and what to look out for when selecting a supplier. It will include carrier oils and the advantages and uses of each oil. It will also introduce another 12 essential oils.
6.Pressure Point Therapy
Building up from the zones learned in previous lessons, this lesson will guide the student on applying acupressure and pressure point massage to the body. It will also give an introduction into acupuncture.
7.Exploring Mindfulness
In this lesson, building on from the first module, students will get a basic understanding of what mindfulness is, and how it can be included in daily living.
8.Crystal Healing
This lesson will introduce the body chakras, and the use of crystals to heal the body. It will look at some of the main stones, and what they are used for.
1.Lymphatic Drainage
This lesson will explain the lymphatic system, and how it works to cleanse the body. The lymphatic system plays a major role in detoxing the body, so it works hand in hand with body balancing. This lesson will also introduce lymphatic massage and drainage techniques.
2.Energy Healing Using Reiki and Chakra Balancing
This lesson will provide a basic look into energy channels of the body, and then include the application of reiki as a treatment, including the application, and the results that can be expected.
3.Yoga for Beginners
In this lesson, we have included yoga as a form of wellness, and we give the basic understanding of yoga practices, including some of the most basic yoga poses.
4.Hydrotherapy
Water, an element of life, works wonders for the internal as well as the external body. This lesson will give a basics to the different types of hydrotherapies available, and the different effects they have.
5.Myth Busting and Mindful Practice Tools
This lesson busts some of the most common myths surrounding mindfulness and meditation.
6.Shiatsu
Combining the energy zones of the body, and the application of acupressure, this lesson will introduce the application of a shiatsu treatment, the results and what can be expected.
7.Body Talk
In this lesson, the student will get a better understanding of common body conditions, and how they can be treated.
8.Essential Oils on the Body Systems
This lesson will combine the essential oils used in the previous lessons, and discuss blending, and what the effect the blend will have on the different systems of the body.
1.Pilates for Beginners
Students will be given a practical demo of the basic Pilates positions, which could contribute to their wellness journeys and active lifestyles.
2.Alternate Reflexology Mapping
This lesson will use the basics of what has been covered in the previous reflexology lessons during the course, and explain the practical application of reflexology onto the hands, as well as the ears.
3.Selfcare
This lesson will discuss daily routines, and how they can affect the body, and different selfcare methods to include in daily living to reduce stress.
4.Everyday Mindfulness
5.The Basics of Skincare
This lesson will include the introduction of a skincare routine with the benefits of it.
6.Mindful Eating
In this lesson, students will combine the knowledge of good nutrition and mindfulness for eating practices.
7.Natural Skincare
This lesson uses fruits and vegetables found in your pantry to combine and use on the skin.
8.Stress Management
This lesson will look at the difference between stress and burnout. It will include stress management techniques and strategies as well as stress relief activities and exercises.