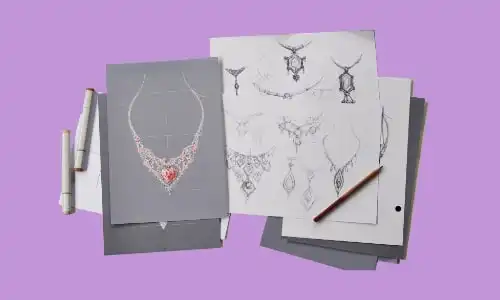 The jewellery design course is based on 4 cross-disciplinary modules in which students will learn to translate concepts into creative solutions. Students will be introduced to the theoretical and practical aspects of jewellery making and thereby integrate and apply their own ideas and methodologies within the disciplines of visual communication. This course aims to encourage and expose students to a more art and design practice through research and developments with an explorative approach.

1.All that jewellery jazz
This lesson focuses on the fundamentals of what jewellery design is and outlines the purpose and value of jewellery. We will look at the role of a jewellery designer and the various career paths in the industry. Additionally, the basic techniques of technical sketching will be introduced and you will be able to create your first 2D drawing of a jewellery piece.
2.Do you speak jewellery?
Let's talk about the language of jewellery. This lesson is all about the jewellery language and exploring the different jewellery types. This lesson will define the variety of materials to make jewellery. This lesson will explore the different methods of communication with jewellery design. This lesson will also explore symbolic and abstract jewellery as a visual language and lastly how to express yourself through jewellery design.
3.Research is "me-search"
Research is the backbone to great design and this lesson focuses on the role of research and inspiration in the design process. This lesson will define research methodology by identifying the various methods and how to apply your research in concept development, moodboards and presentations.
4.From inspo to jewelo
To tell a beautiful story through your jewellery drawing, you need to know the different techniques in drawing. This lesson will look at these different techniques and will also look at how to render metals and gemstones to bring your story to life. From this lesson you will learn to apply these techniques to create your own drawing from a basic design.
5.Foundation of jewellery design
An artist's fluency starts by selecting design elements and come to full execution with the application of design principles. When artists fully understand an apply the design elements and principles, they will flourish as designer. The foundations of design helps a designer to understand how the composition affects our appreciation for it. Think of jewelry design as a visual language. Once you understand foundations of design you can creatively express your ideas in your own distinct style.
6.The digital age
What a glorious age to be alive in and in this lesson you will see exactly why. This lesson will introduce the various methods of designing jewellery on a digital platforms and you will get familiar with the basic tools in mobile app SketchBook, 2D software Inkscape and 3D software Rhino.
7.Magics of metallurgy
Metals are so fascinating and this lesson will focus on the different metals used in jewellery as well as their technical properties. This lesson will introduce basic skills used on the bench as well as basic manufacturing techniques. The lesson will also explore surface decoration techniques to enhance the design process.
8.Time warp
Ornamentation has such a rich history and this lesson we will take a journey back in time and explore the history of jewellery. We will look at the different design eras and the impact it had on the jewellery. This lesson will be used to get the creative juices flowing by creating your a design concept inspired by one of these era and then we will take this design and modernise it into a timeless design.
1.The jeweller's throne
A jeweller's workbench is where you eat, sleep and dream jewellery and this lesson will be all about where the magic happens. This lesson will introduce the essential tools used for manufacturing jewellery. This lesson will explore the different methods used to transfer a design to metal.
2.Jewels Anatomy
Let's take a microscope and have a closer look at the different parts that forms a jewellery item. To do that, this lesson will identify the different jewellery items and we'll deconstruct each item into the different parts.
3.Rolling stones
Gemstones are the rock stars of jewellery. But what exactly constitutes as a gemstone? This lesson focuses on defining gemstones and will be used to introduce the different gemstones. This lesson pays special attention to the different types of gemstones as well as the difference between precious and semi-precious stones. We will then take a look at the buying of gemstones.
4.Set in stone
A setting is what accentuates diamonds and gemstones and this lesson focuses on the different prong styles and setting types for round stones as well as fancy-cut stones. This lesson will also look at alternative settings for organic and cabochon stones.
5.Style for days
Style is everything within the wonderful world of jewellery and this lesson focuses on the different styles used in jewellery creation. This lesson will divide the different jewellery items in categories and we'll identify their styles and types.
6.Design décor
Decorating metal is a fantastic method of enhancing design and this lesson focuses on the different techniques to add colour. This lesson will take a closer look at the difference between enamel and resin and then you'll learn alternative techniques to add colour, texture and finishes.
7.Drawing in Love
Drawings are every designer's alpha tool to get all those thoughts on paper. The lesson will explore different drawing types and styles. We will take a deep dive in the steps to take those thoughts and rough sketches, into an orthographic drawing. We will demonstrate how to create an orthographic drawing and experiment with perspective drawing. Presentation is everything and drawing in perspective view is the absolute key as a communication tool. You will then apply drawing techniques in an artistic, technical, and render drawing.
8.AbraCADabra
Get ready for your mind to be blown by the prospects of 3-Dimensional design on computer. Watch your pieces come to life in this extraordinary method of designing. We will first create a CAD of the stone and setting you designed in lesson 4 & 5. This lesson will also introduce methods to create a pavé and a micro-set ring.
1.Bright like a diamond
They say eat diamonds for breakfast, and you'll sparkle all day! This lesson takes a look at the shiny history of diamonds and the different types of diamonds. By the end of this lesson, you will understand the physical and optical properties of diamonds. We certainly cannot talk about diamonds without defining the 4 C's that characterises diamonds.
2.The Alchemy of Design
Design is all about the journey. In this lesson, we will take an explorative journey through the design process. We will also explore design and creative thinking. This lesson will focus on methods to cultivate creativity along with methods to overcome creative block. We will then apply the steps in the design process for a jewellery collection.
3.Theme Development
This lesson will focus on developing concepts into a jewellery collection based on concepts from the previous lesson.
4.Watercolour painting
Now that we have developed concepts for a jewellery collection we will focus on how to present a design with a watercolour painting. This lesson will introduce painting and materials. We will also demonstrate the steps in creating a watercolour painting of a jewellery design.
5.Gouache Painting
This lesson will show how to present a design with a gouache painting. This lesson will introduce painting and materials. We will also demonstrate the steps in creating a gouache painting of a jewellery design.
6.Theme collection in CAD
It is time to explore more advanced tools in Rhino. This lesson will explore the advanced tools in Rhino. This lesson will demonstrate the steps to develop your collection in CAD.
7.Rendering in KeyShot
Are you ready to see your designs come to life? This lesson will focus on how to export designs from Rhino and then import into Keyshot. The lesson will introduce the tools in Keyshot and demonstrate the steps to set up an environment for rendering.
8.Animation in KeyShot
Now that your collection has been rendered, we will learn how to create animations clips that you can use on social media or websites.
1.Motif Collection
Motifs have played a major role in the development of jewellery design through the ages. When used successfully, you can transform everyday things, items, or ideas into exquisite jewellery pieces. You can capture the essence of anything and create something extraordinary that will never go out of style.
2.Motif CADventure
Motif designs hold a cherished place in the jewellery industry. It is all about creating a story that will resonate with an audience. It is time for us to take our motif design concept and incorporate it into our next collection. In this lesson, we design and create our motif in CAD and convert this motif into a whole jewellery collection.
3.Industry Jewellery: Design Essentials
Engagements and weddings are such beautiful and special moments in life. As a designer, it is heart-warming to be part of these special moments. I love being part of my clients' big celebrations. And today is all about creating classic engagement rings along with wedding bands and jewellery for men.
4.Industry Jewellery: Manufacture Essentials
The CAM process has completely revolutionised the whole jewellery manufacture process. The CAD and CAM process works cohesively; and as a designer, you must understand the relationship between design, CAD and CAM process.