Develop your marketing team and improve their skills in the core concepts of digital marketing, upskill them in digital marketing strategy development and execution, Search Engine Optimisation (SEO) and content optimisation as well as social media. The lessons within our digital marketing course will set your marketing team on the right path to becoming more well-rounded digital marketers.
Key Learning Objectives:
Learn core marketing concepts

Develop and apply different digital marketing strategies

Utilise SEO and Keywords to improve your businesses reach

Optimise your content for different audiences and devices

Discover the best social media channels for your target audience

Set out your goals and KPIs

Measure and analyse data from different channels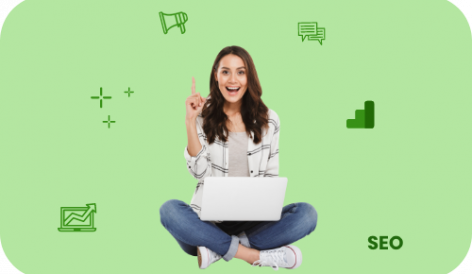 Aspiring marketers and marketing interns or small business owners.
Provide teams with an understanding of the core concepts of digital marketing.
Upon completion of this leadership training course your employee will receive an accredited certificate assessed by global academic partner, the CPD Certification Service.

1.What is Marketing?
In this first lesson, you will have a detailed overview of what digital marketing is, from understanding different terms and concepts to acquiring leads and converting them.
2.Smart Goals & Understanding KPIs
It is very difficult to realise any marketing strategy without goals and targets, and these should be always where you begin a strategy. KPIs will help you to define what success looks like to you and your business.
3.Brand Management
Creating a brand that people associate with quality, value and dependability require careful planning from the outset. Maintaining a brand means investing time into ensuring that leads are enjoying and recommending your product and service over that of your competitors.
4.Who is your target audience?
Your product or service will not be for everybody. Many factors determine your conversions but finding your target market is key. This can be very broad or narrow depending on things like price, quality, and necessity. Creating a buyer persona will help your team to create a more effective marketing campaign.
5.What is Performance Marketing?
Performance marketing is a comprehensive term for online marketing and advertising programs where advertisers pay only when a specific action occurs. These actions can include a generated lead, a sale, a click, and more. This type of marketing can quickly yield results when applied correctly.
6.How do analytics help in digital marketing?
Knowing where you went wrong in a campaign is more valuable than knowing what went right. Without analytics, we have no way to measure who, where or when someone saw an ad or made a purchase. Analytics helps us to ensure we make the right decisions going forward with marketing strategies.
7.What is optimisation and how does it help in analytics?
When we have some data to work from, we can then use it to improve a potential lead's experience. This goes from when a lead clicks on a landing page, right through to purchase. It also means ensuring that content or webpages are all working correctly for the device that is begin used, and that your own SEO and keywords are working efficiently for you.
8.Copywriting and creating good ad copy
Copywriting simply refers to the crafting of an advertisment. Creating an ad that draws attention, creates a call to action or simply increases brand recognition doesn't have to be difficult but without the correct approach you could be wasting your time and money. Find out all about good ads in this lesson.
1.Retargeting
The most valuable leads any company has are consumers that have made a purchase before, followed by leads that reached the purchase page but did not complete the purchase. By retargeting we can reach out to these leads with new offers or remind them to complete a purchase.
2.SEO - introduction
Search Engine Optimisation is what drives digital marketing. It is how your product, service, or business is discovered online. Using the correct search terms, keywords and phrases will improve your ad rank and make you first choice over your competitors.
3.keyword research
Keywords are essential to SEO and are typically found in the content that you create on your site. This content can be articles, videos, or blogs that contain relevant material and search terms for your users. However you cannot simply throw in any words and expect an improvement in page rank, you will need to research words and content that is trending.
4.Introduction to Google Ads
Google Ads is an online advertising platform developed by Google, where advertisers bid to display brief advertisements, service offerings, product listings, or videos to web users. It can place ads both in the results of search engines like Google Search and on non-search websites, mobile apps, and videos. You have to get your ads seen, and Google Ads is by far and large the best way to achieve this.
5.How does social media fit into digital marketing
Social media marketing is a dense topic on its own but needs to be integrated into any digital marketing strategy. Here, we look at Facebook and Instagram while touching on some of the other biggest social media sites out there.
6.Introduction to Affiliate Marketing
Affiliate marketing is a type of performance-based marketing in which a business rewards one or more affiliates for each visitor or customer brought by the affiliate's own marketing effort. Using affilates to promote your service or product can be lucrative for both you and your affiliate.
7.Introduction to Influencer Marketing
Sometimes confused with affiliate marketing, influencer marketing is more social media-based and more focused on an individual to promote a product/service rather than a company. This can be a much better option depending on your product and target market.
8.Creating a Digital Marketing Strategy
In the final lesson of this course, we will take everything that we have learned and apply it to creating our successful marketing strategy.