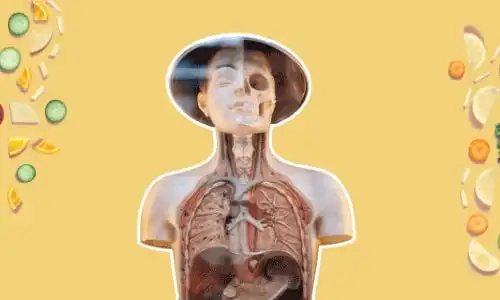 1.Body Basics
Do you know how the body works? Before you can know and understand what food to put into the body to improve health, you have to know more about body basics. In this lesson, you will explore general healthy eating patterns and how they are related to health and disease. You will also delve into the inner workings of the digestive system and learn more about how these important organs work together to digest, absorb, and utilise the food you eat to keep you alive.
2.Carbohydrates
Feeling confused about carbs? In this class on human nutrition, you will learn more about macronutrients and how they contribute to energy intake, how carbohydrates are utilised in the body, and why it is so important to manage blood sugar levels. You will also learn how to easily identify healthier carbohydrate sources and get the low-down on low-carb diets, sugar, and sweeteners.
3.Proteins
Be lean, mean, and eat your protein! Do you think more is better? In this nutrition class, discover why protein is such an important nutrient and how it is digested, what the protein requirements are for different age groups, as well as how to interpret these in terms of real food. You will learn more about various protein sources and distinguish fact from fiction when it comes to red and processed meat, soya, and fish. This lesson will be completed by delving into the hype surrounding high-protein diets.
4.Fats
The fatty truth. Fats still maintain some of their 'bad rap' from popular low-fat diets of the '90s. In this nutrition lesson, you will dip a little deeper to understand why including fat in your diet is, in fact, important. Explore the different types of fats as well as the associated health risks and benefits of each, and learn the truth about coconut oil, low-fat products, and eggs. This lesson will be completed by learning how to make practical fat substitutions that will improve your general health and well-being.
5.Micronutrients
Mighty micronutrients: small things pack a big punch! An adequate micronutrient status is vital for good health and so it is important to understand what these valuable nutrients are, where to find them, and what common deficiencies occur as a result of not having enough of them. In this lesson, you will learn more about phytonutrients and the invaluable role they play in bettering your health. Practically, you will also look at cooking methods that retain the most micronutrients, and how food processing changes the amount of micronutrients available in the food we eat.
6.Hydration
Do you know that the first signs of dehydration are fatigue, irritability, and loss of concentration? In this class, you will unpack the '8 glasses of water a day' recommendation, and learn more about all forms of hydration, including the pros and cons of each. You will also learn to dispel some popular hydration myths (is caffeine really dangerous to your health?), and at the end of this lesson, you will be a hydration expert.
7.Adopting Healthy Eating Habits
How do you know if you are ready to make a major lifestyle change? The first step is to understand your motivators and demotivators when it comes to healthy eating. In this lesson, you will delve into the psychology of changing your mindset and discover some great tools that you can use to move in the right direction. You will also look at the pros and cons of food tracking apps and learn which tools are best to help you make better choices and keep you on the healthiest path.
8.Body Measurements
Module 1 of the online nutrition course ends with a lesson on body measurements and health. This will touch on body image and some concepts behind mindful eating. Explore when and where body measurements are appropriate, and unpack the evidence behind certain popular body composition methods and their validity.
1.Putting the Pieces Together
Now that you have the basics of nutrition under your belt, the first class of Module 2 is aimed at helping you put all the pieces together, from theory to practice. Not only will you learn how to spot bad nutrition advice but this lesson will also discuss healthy eating habits, portion control and so much more. After this lesson, you will be able to start implementing these practices into your daily life.
2.Weight Loss Basics Part 1
Is weight loss more than eating less and exercising more? In this lesson, we explore the theory and practical concepts of weight loss. This is a two-part lesson that will be continued in the next lesson.
3.Weight Loss Basics Part 2
In part two of weight loss basics, discuss the factors that affect weight loss, practical methods to reduce energy density, and how you can go about ensuring success.
4.Popular Diets
Do popular diets work, or are they a waste of time? The objective of this nutrition class is to understand more about low-fat diets, low-carb diets and low-calorie diets. We will discuss what they are, their history, their pros and cons, as well as the misconceptions of each.
5.Fad Diets Debunked
Do you know how to spot a fad diet? In this lesson, you will specifically be looking at three fad diets, including the acid-alkaline diet, the blood group diet and detox diets. You will begin to understand what these diets entail, the evidence behind them and what the pros and cons of each are.
6.Free-from Diets
Free-from diets exclude certain foods or nutrients due to an allergy or an intolerance. For some, they are a necessity but for others they are just another restrictive eating pattern. This lesson is geared to help you understand what they are and if they are applicable to you!
7.Plant-based Diets
This class on nutrition describes the ins and outs of a plant-based diet. After this lesson, you will be able to identify the various types of vegetarians and also understand some of the rationale behind why people choose to eat in this way. You will delve into the health benefits of being vegetarian, and also look at some of the drawbacks.
8.Nutrition FAQ
The last lesson of this online module will discuss some frequently asked nutrition questions before moving on to more complex nutrition principles in the advanced module.
1.The GIT Part 1
Part one of digestive disorders is focused on the upper GIT. You will learn what it entails and what disorders are more prevalent in this portion of the GIT. This online class will also take some time to look at the medical and nutritional management of each.
2.The GIT Part 2
To wrap up the GIT, part two is focused on the lower GIT, more specifically the large intestines (including common lower GIT disturbances) as well as your microbiota. By the end of this lesson, you will have some practical knowledge of how to modify your diet to ensure the health of these vital organs.
3.Exercise Part 1
Do you know the difference between an exerciser and an athlete? This is an important differentiation as nutritional requirements differ depending on activity levels. In this advanced nutrition class, you will learn about the three main energy systems, and explore energy and macronutrient requirements as well as the effect that the timing of their intake will have on your performance.
4.Exercise Part 2
Wrap up the exercise and nutrition masterclass by understanding a bit more about popular sports supplements, and delve into the interesting world of activity and optimal hydration.
5.Alcohol Part 1
Can a glass of wine benefit your health? In this lesson, you will learn more about alcohol metabolism, why we drink, current recommendations and the dreaded hangover!
6.Alcohol Part 2
Continue to learn more about how alcohol affects your health and look at various situations in which alcohol should be avoided. This topic ends with a discussion on ways to practically reduce your alcohol intake to ensure you remain within the acceptable recommendations.
7.Mindful Eating Part 1
In this class on human nutrition, you will begin to understand eating behaviours in more depth, including some of the reasons why, when a person loses weight, it is so easily regained. This lesson will also look at mindfulness, and you will do a brief guided mindfulness meditation and discover how this can link to mindful eating. The lesson will end by delving into some of the characteristics of mindful eating.
8.Mindful Eating Part 2
The second part of your mindful eating journey is aimed at helping you explore the mindful eating cycle. You will be introduced to the eating cycle assessment and unpack some of the science that supports mindful eating in various situations. This lesson (and nutrition module) will come to an end with something called the raisin meditation. Once you have done it, we can assure you that you will never look at a raisin the same way ever again!
1.Module summary coming soon!