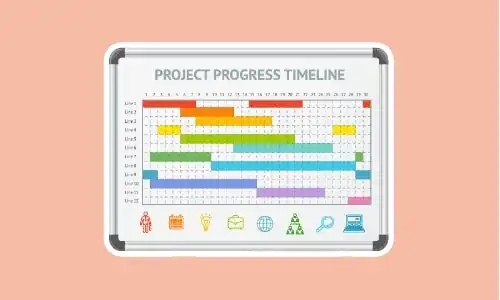 Here at Upskillist we believe in the value added when skilled project managers are involved in projects. During this 4 week introductory course you will receive insights into the world of project management, its core concepts and methodologies. Recent statistics show that over 15.7 million new project management jobs will be created this year alone! What are you waiting for? Get started on the course that can change your life for the better and open up a world of possibilities!

1.What is Project Management
Project management is the application of knowledge, skills, tools, and techniques to project activities to meet the project requirements. In this class you will be introduced to the world of project management and the different processes, methodologies, and project management skills that guide the industry. You will learn about the different roles and responsibilities of the various team members that make up a project.
2.Project Initiation Phase
In the project initiation phase, you will look deeper into topics such as project scope, deliverables, goals, objectives, and milestones, as well as the different influences and interests of stakeholders within a project. You will also evaluate different project documents such as the stakeholder register and project charter.
3.Defining the Project Plan
The world of project planning will be broken down into key elements such as work breakdown structures, project dependencies, estimation techniques, and network diagrams.
4.Planning Cost, Time, and Quality
The journey through the project management phase continues into the second part of the planning phase. Cost management will be broken down into the four primary phases namely: determining budget, cost control, costs incurred, and estimating costs. Quality management will be discussed in terms of customer satisfaction, quality assurance, quality control, and estimating techniques.
5.Change Control and Risk Management
This project management class will discuss change control and how to handle risk management. These are essential functions within a project, and an important part of the project management certificate!
6.Procurement and User Acceptance
Project execution is an important part of project management training. This lesson will discuss the project execution phase as well as tackle topics such as planning for procurement and how to receive acceptance from users.
7.Project Execution and Leadership
In this lesson you will learn about the different tasks involved in executing a project, as well as different leadership styles that can be applied.
8.Monitoring and Controlling
his lesson covers the 10 processes within the monitoring and controlling process which you will come across throughout a career in project management.
9.Project Closure
Nearing the end of module one of the project management certification, topics around project closure will be discussed. Vital elements including lessons learned and closeout reports.
10.Introduction to Gantt Charts
The final lesson of module one of this project management course, explores Monday.com for a practical demonstration of Gantt charts. Here, the dependencies discussed in previous lessons will be broken down into more detail and applied in the Gantt chart.
1.Why Leadership Matters - Part 1
2.Why Leadership Matters - Part 2
3.Principles of Leadership - Part 1
4.Principles of Leadership - Part 2
5.Leading with Vision, Values, and Purpose - Part 1
6.Leading with Vision, Values, and Purpose - Part 1
7.Leaders Communicate to Inspire - Part 1
8.Leaders Communicate to Inspire - Part 2
1.Leadership and Organizational Culture - Part 1
2.Leadership and Organizational Culture - Part 2
3.Leadership and Engagement - Part 1
4.Leadership and Engagement - Part 2
5.Why Leaders Coach, Mentor, and Develop Others - Part 1
6.Why Leaders Coach, Mentor, and Develop Others - Part 2
7.Leaders Empower Innovation and Creativity - Part 1
8.Leaders Empower Innovation and Creativity - Part 2
1.Leaders Develop Strategic Awareness - Part 1
2.Leaders Develop Strategic Awareness - Part 2
3.Adaptive Leadership - Part 1
4.Adaptive Leadership - Part 2
5.Leaders Constantly Scan their Environment - Part 1
6.Leaders Constantly Scan their Environment - Part 2
7.Leading Through Change - Part 1
8.Leading Through Change - Part 2