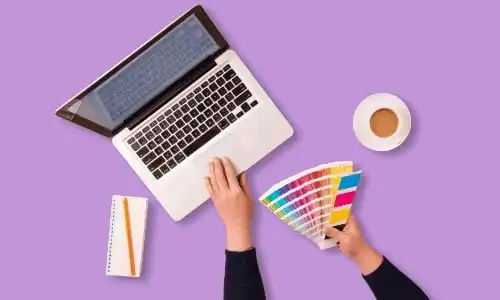 Graphic Design on a budget

1.What is graphic design?
Kickstart your course with an overview of the graphic design space. Get familiar with the idea of concepts, ideas and thoughts, an understanding of visual relationships that can help you communicate a direct and coherent message. Get introduced to a variety of open source and affordable software options from web-based editors like Vecteezy, downloadable software like GIMP and Inkscape, to mobile applications like Adobe Capture and Canva.
2.The Elements and Principles of Design
In your second graphic design class, you will get the opportunity to get acquainted with developing a 'Designer's Eye'. The key is to understand the foundation of good design. You will know more about the principles and elements of design including composition, organic and geometric form, colour, craft usage to create visual impact with clarity whilst adding structure to your designs.
3.The Design Cycle
Lesson 3 will investigate one of the first tasks a designer is faced with; logo creation. The process of concept to presentation is known as the design cycle and a thorough breakdown will be given as to how to approach a customer through the design cycle. The lesson will end with an introduction to working in Vecteezy to create your own logo.
4.The Works-every-time-layout
In lesson 4, we will differentiate between the different type of images graphic designers deal with daily. You thought you knew all there is about images, but this course will blow your mind with some newfound knowledge. A bulletproof design technique that barely fails will be taught and applied in a practical exercise of Adobe Spark as well as Canva. This lesson is sure to get you hooked!
5.The Basics of Typography
About 80% of all designs consist of typography – the art of using type in your design. In this lesson, you will realise that type is not only a mere communication instrument but will see the potential of using type as a design component. With so many other messages screaming for attention, how to do you make your message stand out? Graphic design mistakes to avoid will also be examined in this lesson and you will realise that these mistakes are more apparent than you thought – avoiding them will make you stand out in the masses.
6.Photo-manipulation Using GIMP
There is a difference between a digital and printed image? This lesson will investigate the crucial component of working with pixels. GIMP is a raster editing software and can compare with the likes of Adobe Photoshop. GIMP demos will make this lesson even more practical and the fundamentals of GIMP including layers and blending modes will be focused on.
7.An Introduction to Adobe InDesign
Print is not dead. Getting your files print-ready is a critical part of any designer's task. Bleeds, cropmarks, colour space and format are the principles that will be explained, and the student will be introduced to the amazing Adobe InDesign; the most powerful layout application.
8.Brochure Design in InDesign
An infographic is a creative way of communicating using graphs and illustrations to your audience. Even though it takes you seconds to grasp the information on an effective infographic, the process of creating an infographic takes a lot longer. The rewards are however very satisfying when you see your design helping people for the better. Easel.ly is a web-based editor specialising in infographics, and we will explore this application's possibilities.
1.Advanced Colour Theory and Mood Board Creation
Colour, being one of the elements of design, is probably the element that has the ability to make the biggest impact on your design. It is thus crucial to understand colour and its various properties; from the psychology behind every colour to which mode to save your artwork in to obtain the most effective colour. In this lesson, we will explore all the aspects of colour including how to work with colour. Combining what you have learnt about colour so far, we will explore Adobe color, an amazing online tool that assists designers in coming up with creative colour schemes. These colour schemes can then be applied to your mood boards. Mood boards can be used for any creative project and is a great way to help communicate your intended message to your client.
2.Website Design
A website is something businesses can't go without in today's age. If people are searching for businesses, they will use an internet browser like google to obtain any businesses close by. It is important for your business to have an online presence and in the next two lessons we will explore this space in the form of website creation and social media design. It is important to note that the functionality of your website and social media pages is extremely important. And this is what Steve Jobs also stated: Design is not just what it looks like and feels like. Design is how it works.
3.Design for Social Media
Marketing is the process of promoting a product or service in order to generate a sale from said product or service, and in return generate a profit. Social media started out to be simply a means of communication between friends, family members and contacts. But soon it became clear that social media had great potential to promote these products and services. In the early stages of social media, design was not much of an issue as you did not have a lot of competition to deal with, but the more popular it became, the more difficult it was and still is to stand out in the noise. You not only need a keen eye for effective design but also understand the algorithms of social media.
4.GIMP Movie Poster
Gimp is a raster editing software that is open source and have been around for quite some time. It is trusted in creating amazing looking photo realistic artwork at no cost at all. You were briefly introduced to GIMP in our previous module but today we will look into more detail using GIMP. Specifically looking at the feature of layer masks, which is probably one of the most important features to understand and master.
5.Creative Thinking - Is everyone creative?
Creativity is a means of problem solving. Since graphic designers are visual problems solvers, it would make sense for them to be creative as well. But how do you know if you are creative? Is everyone creative? Can creativity be learnt or is it something only a few individuals are born with? All these questions and even more will be answered in this eye-opening lesson. We will look at techniques to inspire you and teach you ways to not think outside of the box but to rather understand that there is no box.
6.Corporate Identity
A corporate identity is a visual that encapsulates a company's values in a glimpse. Therefore, your identity should portray not only what your business does but also the values of your business. We will explore the concepts of creating a corporate identity including a logo, business card and HTML email signature. The principles of effective logo design will be examined and all that you have learnt will be put to the test in a fun and interactive demo. We will take our elements created in this demo and put them on realistic looking mockups that will aid your client in visualising the final product, making your work look even more professional.
7.Mastering the Bezier Tool
The Bezier tool, which is also known as the pen tool in other applications, is a versatile tool that allows designers the ability to basically draw digitally. It might seem like a difficult task to master the Bezier tool but once you get the hang of it, you cannot unlearn this skill. The advantage of effectively making use of this tool is that it will allow you the ability to work more easily on other applications that might have a similar tool or feature. This includes Inkscape, Vecteezy, most Adobe applications, Affinity's applications including Photo, Designer and Publisher.
8.Mobile App Photo Enhancing
Enhancing photographs might not seem like a difficult task, especially if you make use of your phone or tablet. However, you still need a good eye and some solid knowledge to do a proper enhancing job. As with most applications, the computer-based options offer more flexibility and tools, but our mobile phones can also get the job done. For me personally, I love to work on a big screen when it comes to editing and enhancing, but what do we do when we don't have access to a large screen? Companies like Adobe and Affinity have realised that we're moving into a fast-paced, mobile world and have thus adapted their applications to suit lives.