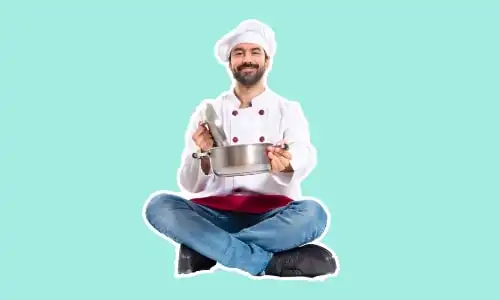 Learn how to cook with confidence! This online cooking course will equip you with theoretical and practical skills to give you the edge you need in the culinary world.

1.So... Can You Even Cook?
In your first lesson we discuss a variety of important cooking and baking terms, this will help you feel confident in the kitchen and keep up with the classes. You'll learn how to identify the different types of knives (as well as discuss their various uses) and will be shown how to choose the best quality knife to suit your needs and also how to best take care of your knives. The practical portion of this lesson focuses on teaching you how to fry the perfect egg.
2.Blades not Bandages
Our 'Blades not Bandages' lesson is aimed to give you the confidence to chop like a pro. Proper knife skills are vital in the kitchen and knowing the proper technique can literally save you a finger. In this lesson you will not only learn how to use your knife, but also how to sharpen a dull blade. We will also identify the various cuts for vegetables (using your newly gained knife skills).
3.Can We Bake Something Already, Chef??
This is a delicious lesson you definitely do not want to miss. We will focus some time on understanding what each kitchen/ pantry must ideally be stocked with and understand all the settings your oven has to offer. We end off the lesson with an amazing practical on how to create mouth-watering and moist banana pecan muffins.
4.Home for the Hollandaise
A sauce has the power to make or break a dish and mastering the art of making a sauce is a skill that every chef needs to perfect. This lesson is focused on understanding a roux, mother sauces and stocks. The practical portion of this lesson will show you how to create a roux and what needs to be done to take a roux to a finished product.
5.Cake It Easy, Man!
Have you ever heard of a Genoise sponge cake? Never fear, we are here to show you what that is (and why it is different from a regular or chiffon sponge cake) as well as everything in between! You will put your newly learnt baking terminology to good use and understand why your ingredients need to be at room temperature. The demo will be on how to create this delicious sponge and by the end of it you can rest assured that your mouth will be watering!
6.Keep it Clean
Do you know the difference between food borne illness and food poisoning or food safety, sanitation, and personal hygiene? Knowing the ins and outs of food safety is imperative, especially if you are cooking for groups of people. Knowing how to clean, separate, cook and chill various types of food can help you reduce the risk of illness and reduce food waste and save on costs.
7.Who Are You Calling Fatty?
This lesson details the various fats that can be used in cooking and baking, as well as the characteristics of each with the demo focusing on the correct technique to bake melt-in-your-mouth butter biscuits. In addition to this, we will also delve into the world of raising agents. You will learn what these are as well as why they are important and which types to use for various recipes. Once again, a lesson to truly make you drool...
8.Sunday Lunch
Our final lesson for module 1 elaborates on meat browning. We explore how to perfectly brown your meats and understand why it creates such a delicious taste in our favourite roast dishes. The demo is aimed at helping you put the pieces of what you have learned over the last 7 lessons into practice. You will learn how to do the perfect roast beef, with Yorkshire pudding and a variety of vegetables with an Espagnole sauce. Can anyone say yum?!
1.Let's get Jiggly- Understanding How to Set Various Foods
At the end of this lesson you will be able to apply the knowledge you have learned to produce sweet or savoury set products (using gelatin, eggs and butter) as well as understanding the science of how gelatin works.
2.Meat with Me- Meat and Meat Cuts
This lesson will help you to identify different cuts of meat from different animals, be able to cook a meat product to desired doneness (rare, medium rare, medium , medium well and well done). and will help you be competent in methods like cleaning a fillet steak.
3.Don't Be Chicken- Guide to Poultry
After this lesson, you will be able to identify the different types of poultry and which cooking methods are best to use for each type you will also learn how to joint a chicken.
4.Surf's Up- Fish and Fish Cuts
Increase your confidence in cooking a variety of seafood dishes and learn which methods are suitable for the various ingredients.
5.Finger On The Pulse- Vegetarian Dishes
Understand and apply cooking techniques for a variety of starches, vegetables, pulses and grains. An ideal lesson to bring out the vegetarian in you!
6.I Love Buns- Breads
Have you always wanted to learn how to bake breads and buns? This lesson is geared to do just that and to also teach you which flours and ingredients are best to use to create delicious baked items.
7.Confection Perfection
This lesson will help you understand the principles of confectionery and will teach you how to create mouthwatering and beautiful confectionery products like Macarons and chocolate truffles.
8.Sweet and Soft- Guide to creams, custards and filling and icings
For our module finale you will learn how to ice a cupcake, fill profiteroles and make a classic custard dessert (used for Crème brûlée or Crème caramel).
1.What's Inside - Guide to Offal
This is a lesson going through all the different types of offal eaten all throughout the world. There is a demonstration on how to cook liver at the end of this lesson.
2.Hollandaise for Days- Emulsion Sauces
Lesson 2 is about emulsion sauces and how to make various types of emulsion sauces. There is a lesson on how to make your own mayonnaise and finally hollandaise sauce.
3.You Are So Sweet-Puddings and Baked Desserts
Lesson 3 is all about dessert. Learn how to confidently bake puddings and desserts such as the delicious sticky toffee pudding and the South African malva pudding.
4.Sausages and Cured/ Smoked Meats and Pate- Part One
In this lesson, you will learn how to correctly cure a cut of pork/beef as well as smoke it. You will also learn the difference between hot and cold smoking.
5.Braising Like a Boss!
In this lesson, you will gain the skills and confidence to cook a variety of savoury stews and casseroles, including cassoulet, bourguignon, shanks, osso buco, and curry.
6.It's Time to be Serious! Food Costing
Understand how to calculate food cost, where to save extra money and how to maximise on profits.
7.Pie Face- Sweet or Savoury Pies, Pastry and Dumplings
Learn how to bake both savoury and sweet pies including a delicious blueberry pie with delicious homemade pastry. Drool!
8."Let it Gooo"- Frozen Sweetness
Wow this is a tasty lesson. It is all about frozen items. There is a lemon sorbet tutorial followed by a pistachio praline parfait recipe and demonstration.
1.Sexy Soufflés
This lesson is all about soufflé and flambé. What they are and the different types. There is a strawberry flambé recipe and finally you will bake your own Grand Marnier soufflé.
2.Sausages and Cured/ Smoked Meats and Pate- Part Two
This is part two of the sausage and cured meats lesson. In this lesson we discuss in detail how fresh sausages are made along with all the tips and tricks you need to know. Finally there is a demonstration at the end of how to make your own fresh pork bangers.
3.It's a Classic- Classic Dishes from Around the World
This is an around the world lesson where we go through the most popular foods found all over the world. There is a tasty bouillabaisse recipe at the end of this lesson.
4.Blast from the Past- The Golden Oldies
Lesson 4 is a follow on of regional favourites. We will bake an apple crumble in this lesson followed by Beef wellington. Definitely not one to miss.
5.Sweet Baby Meringue- Meringues, Mousses and Parfait
All things delicious and meringue. This lesson is a guide to meringues, followed by a tutorial on how to make lemon meringue pie. Finally there is a recipe and demonstration on how to make your own world class pavlova.
6.Italian Rapscallion
Full guide to pasta of all types. There is a demonstration on how to make your own butternut and spinach gnocchi followed by a lasagne demonstration. Yes that's right, pasta from scratch.
7.Matt's Motherland- A Taste of My Home
This is a tasty lesson from South Africa. First a few different types of cultural dishes followed by the world famous malva pudding and finally a tutorial for babotie.
8.It's a Graduation Party
The grand finale. This lesson is going to keep you in your kitchen. It consists of a full 4 course meal that needs to be planned and executed. You can do this.