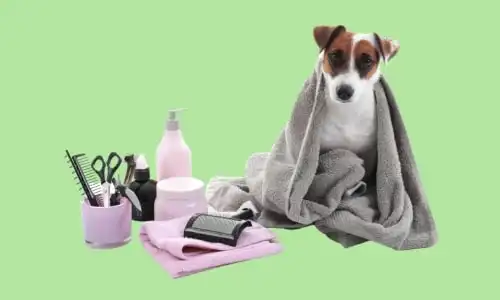 Dog care, Nutrition and Grooming
On completion of this course, you will have the knowledge of the vast variety of dog breeds around the world and learn the correct method to groom common breeds by brushing, bathing, clipping, scissoring, styling and maintaining the coat. You will be able to identify common health problems and apply pre-grooming inspections. You will learn how to approach and handle nervous/aggressive dogs, especially while grooming.

1.So, You Like Dogs?
In your first lesson you need to understand why it is important to have a dog groomed by a professional and we will have a look at the pros and cons of being a dog groomer. The educator will introduce you to the different dog breeds from around the world and add some fun fact throughout the lesson. We will discuss different dog breeds and their health issues. You will also learn the basics of a dog's anatomy with some freaky facts which I am sure you have never heard of.
2.Let's Dig Into It
During this lesson we will discover the 7 different canine groups that breeds are divided into and assist in determining which type of dog breed will suite your personality best. We will also cover and discuss the most common of illnesses and diseases that you may be faced with at times . The subject of dog nutrition and how to ensure that your dog gets the proper nutrition it needs, forms a very important part of this lecture.
3.Equip Yourself
In this lesson, you will learn the important facts when it comes to caring for a dog, and one of those factors is dog grooming. We will discuss how to create a safe working/grooming environment and because you are working with a live animal it is important to take measures to protect yourself as a groomer. You will be introduced to the variety of equipment needed to groom as well as the maintenance thereof.
4.Doggy Body Language
You will be able to identify behavioural signs of aggression, fear, anxiety, as well as the correct method of approach. This lesson will enable you to read a dog's body language and my videos will be informative on how to handle and groom temperamental and disabled (blind and deaf) dogs.
5.Let Me Take a Look at That
In lesson 5 'Let me take a look at that' you will learn how to conduct a full pre-grooming inspection by checking the dog's appearance, body language, coat condition and overall health. I will teach you various techniques for example on how to remove certain matters from a dog's coat. We shall discuss wide-ranging factors that affect the coat condition and the grooming process.
6.Hair, Hair, EVERYWHERE
You will learn about the different types of dog coats from curly to smooth, wire to silky and everything in between as well as the difference between a hair coat and fur coat. I will demonstrate how to deshed a dog and how to remove the undercoat from a double coated dog. Even dogs get tangled hair, but not too worry I will teach you a method to de-tangle the knots easily and painlessly.
7.Rub-a-dub-dub in the Tub
During this lesson, you will be educated on the correct methods and techniques on how to brush and bath your dog to maintain your dog's skin and coat as well as for best hygiene practices. Demonstration videos will be used in this lesson to guide and inform you on what exactly to do. You will be taught how to brush the teeth, which takes place during the bathing process and discover tools and products needed for these processes.
8.Blowing You Away
You will be educated in various drying methods and techniques to turn your fur baby into a little fluff ball and which equipment to use to achieve that. Accidents do happen and that is why you should always be prepared for any situation. During this lesson, we will discuss how to react in emergency conditions and what steps to follow.
1.Goodbye, Hair
Most industries has a go-to option and so does dog grooming. This lesson is designed to educate you on a basic cut which could be applied to most breeds. You will also be shown the different lengths in which this cut can be done and when and which type of breed these cuts are best suited for. Accidents can occur at any time and you should always be prepared. Having a fully equipped emergency kit ready is key. You will be educated on what your kit should obtain and how to use it. I will demonstrate the process how to conduct CPR on a dog and what to do if a dog has a medical emergency.
2.Call Me Scissorhands
Scissors can sometimes be daunting and dangerous when not used correctly that is why it is important to be aware of scissor safety and the maintenance thereof. I will illustrate the correct method of using various types of scissors and their function by trimming a Poodle's head and a Schnauzer's legs. All dogs have those "Bad dog" moments and this will be discussed during the lesson as well as how to resolve them.
3.Shaving Time
The lesson objectives for this lesson is to recap on clipper use and maintenance and I will demonstrate how to shave a dog, big or small. We will touch base on the subject of dog care and converse if it is beneficial to have more than 1 dog?
4.Healthy Helping
We will focus on the nutritional aspect of this course and discuss the value and benefits of dry, wet and raw food diets. CBD oils are very beneficial for humans but can it also benefit dogs? Some dog owners battle to get their dogs to eat, we will discover the reason for this.
5.Perfect Paws
During this lesson, we will discuss dog paws and everything it entails from paw anatomy, paw injuries, styling and how to cut those dreaded dog's nails. All this may sound daunting but remain paws-itive. After this lesson, you will be equipped with the knowledge and understanding everything there is to know about paws.
6.Heads Up
Today I will teach you how to execute the basics for grooming a dog's ears, eyes and head. We will also have a look at how to conduct special features of certain breeds heads.I will awaken your inner fashionista by demonstrating how to create a stylish topknot.
7.Bums and Tums
We will discuss all there is to know about "be-hind the fluff". You will be educated on the basic grooming of a dog's tummy, bum and sanitary area. While we are discussing the rear end of a canine it is important to know what healthy and unhealthy dog stool should look like in order to identify if your pet might have underlying health problems.
8.Fabulous Darling
The objective of this lesson is to classify the process of time management applicable to grooming and then it will be time to get creative. I will introduce you to some tips on how to take professional photos of a dog, especially your own and we will also explore how to create beautiful accessories for dogs. Moving is an overall adjustment, especially for dogs. I will give you some suggestions on how to make moving with your fur baby a joyful experience.
1.Terrific Terriers
In this lesson, we will learn how to professionally groom a Scottish Terrier, Miniature Schnauzer and will classify hand stripping. These are the three main preparation techniques that you need to be comfortable with in order to groom all Terrier breeds.
2.Teeny Tiny Joy
You will learn all there is to know about the Toy Group ranging from history, traits to even nutritional aspects. We will examine how to professionally groom a Pomeranian and a Yorkshire Terrier, as well as demonstrate various styles which will complement many different breeds
3.Honourable Hounds
The objectives for this lesson is to discover the Hound Group. The educator will demonstrate how to professionally groom a Basset Hound and a Dachshund with the grooming procedure that can be applied to other short-coated dog breeds. Some hounds are longer coated, therefore we will explore the grooming technique of an Afghan hound.
4.Wonderful Workers
During this lesson, you will discover all there is to know about the Working Group. The educator will demonstrate how to professionally groom a Giant Schnauzer and a Great Pyrenees. We will also discuss the grooming method of a Komondor.
5.Helping With Herding
In your next lesson you will discover all there is to know about the Herding Group. The educator will demonstrate how to professionally groom a Border Collie and a German Shepherd. We will discuss how to groom a Bouvier des Flandres.
6.Sport Rules
We will discuss the history, traits, health issues and nutritional needs of the Sporting Group. You will learn how to professionally groom a Golden Retriever and a Labrador Retriever and we will discuss grooming specifications of various Spaniel breeds.
7.Comforting Companions
During this lesson, you will discover the Non-sporting Group and be educated on the several styles that can be applied to a Poodle. We will also have a look at the grooming methods and techniques of a Chow Chow and Bulldog.
8.Fashionably Stylish
During this lesson, we will have a look at interesting new looks in the grooming industry from around the world and I will demonstrate how to create a funky mohawk on your cool canine buddy. I will demonstrate how to add some fun colours and stencilling to a dogs coat and we will explore the world of colouring competitions. Training a dog forms part of caring for your dog, we will have a look at some quick and easy training techniques that could be implemented to have a happy pup.
1.Getting Down to Business
Being an entrepreneur can be overwhelming at first, but this lesson will really help you to grasp the very fundamental information that you need to consider when you think about starting your business. Understanding your business type and exactly what your market will be are the two key principles that is covered in this lesson.
2.More than just the basics
Moving beyond the basics means that you will obtain new skills related to planning and organising, selecting a location, and know what steps to take to make your company legal.
3.Create your business plan
The business plan will give you the ability to plan how you turn your vision into a business. It will enable entrepreneurs to answer the tough day to day questions as the plan will have been considered and will help the individual look at the cash flow forecast, market research and the milestones to make the start up a reality.
4.Corporate identity
This lesson is all about teaching you amazing tips and tools to make use of, so your business can have that edge. All tools being illustrated in this lesson are free online-based software, so you can access this from almost anywhere. You will be taught how to create a company logo, an HTML based email signature as well as other corporate identity elements like a poster design.
5.There is no "I" in the word team
When it comes to grooming it takes a very specific type of person that will be able to handle the job. You will learn how to identify the perfect personnel for your business and what questions to ask during the interview process. We will discuss the legal paperwork that needs to be in order to protect your staff and your business against legal actions.
6.Do we need that?
If your dream is to own your own grooming parlour then this lesson is for you.I will show you exactly what you will need to start your own grooming business from equipment, products, licensing and the cost that goes with that. We will discuss the perfect grooming salon layout to create a effective workflow process.
7.Get noticed(Part 1)
No business would succeed without some form of marketing - nobody will know about you if you don't tell them. Once you have your objectives and you know your target market, it's time to create your marketing plan. We will discuss how to create a basic website for your business.
8.Get noticed(Part 2)
The average adult spends 5.9 hours a day with digital media which means that for businesses Social Media Marketing is a crucial element to success in any industry. Learn how to develop a social media marketing strategy for your start-up that enables you to post like a pro while focusing your efforts where it matters most - on growing your business.