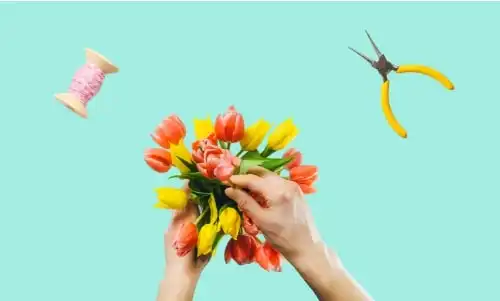 Learn the theory and techniques that allow floral designers to create colourful and aesthetic works of art while using flowers as their medium of expression in this online floral arrangement course. Gain confidence in floristry from selecting the right flowers all the way to improving the longevity of your display.

1.Let's start at the very beginning
This lesson will introduce you to speaking the floral practitioner's language, defining terminology you may hear when working as a floral designer. The basic lingo is your first step in becoming a floral designer.
2.What's in your toolbelt?
An artist is not complete without his tools. In this lesson, we identify the necessary tools and equipment needed in floral design practice, and then some not so necessary, but great to have.
3.Votives, vases, and vessels
A floral arrangement is not complete without a beautiful container to present them in. In this lesson, we will look at the different containers that are available for presentation, from the different kinds of vases to votives, and vessels, including the materials these containers can be constructed from.
4.The Artist, the Scientist, and the Businessman
As a floral designer, your task is not just to design a beautiful arrangement as an artist, but to also place your lab coat on, and become a scientist to understand the chemistry of the flowers, and a businessman to run a day to day operation, from the flower market to the customer. .
5.Going to the market
In this lesson, we pack our bags, and we travel to the flower market. No floral designer can be successful without those early trips to the markets to select the freshest possible flowers. We discuss floral market etiquette, and what you can expect when shopping for the freshest flowers.
6.I wish I had an App for that
I'm sure we have all been in a situation where we have stumbled across a beautiful plant or flower, but we have never seen it, and have no idea what it is. In this lesson, we discuss how to search for flowers on the various search engines, or the best apps to include on your smart devices as a floral designer.
7.What happened to the roses?
There is nothing more devastating than opening a box filled with roses; that have been specially shipped to you, and discovering that something must have happened to them during the journey. In this lesson, we discuss the various parasites and bugs that could affect your flowers, and what we can do to prevent these.
8.Where it all came from
In this lesson, we travel through time and discover the development of floristry through time and style
1.All over the World
We will be looking into the different cultures and how they brought different styles and viewpoints into floral design. With reference to module 1, we advance with discovering those styles and learning from them.
2.From Valentine's Day to Christmas day
In this lesson, we will look at how the different holidays and occasions throughout the year will influence your choices of colour and product in floral design
3.Location, location, location
The identity as florist you portray will be determined by the flowers you sell and the styles you employ; this will ultimately determine your market and location
4.Sustainable floristry
In this lesson, we will take a look at eco friendly alternatives for embellishments. We discover the return of preserved flowers to fashion and how the market is adapting.
5.Always the Nanny
We use this lesson as a reminder of floral care , how the industry influences flowers and how a florist should plan for it.
6.Knowing your Greens
In this lesson, we go green- we look at the treatment , storage and greenery arrangements. We incorporate the elements of design and the rise of value in foliage, satisfying the need for the organic and greens to be incorporated more into daily design
7.Fillers and Finishers
In this lesson we consider the importance of fillers and their use in design. Discover the use fillers as the main focus of a floral arrangement.
8.The Principle of 3
This lesson takes a look at design elements that work and how those can be reinvented to create new looks
1.Lets twist again
"By the end of this lesson, you should be able to: • Plan, design and make a bouquet. • Understand the basic techniques required for bouquet making. • Differentiate between different kinds of bouquets. • Write a recipe for a bouquet. • Add meaning and symbolism to your bouquet."
2.That's a wrap
"By the end of this lesson, you should be able to: • Understand the importance of the wraps used for your floral bouquet • List the different types of wraps • Elevate the bouquet by considering different packaging options • Considerations to take when using the vase in design"
3.Set the Artist free
"By the end of this lesson, you should be able to: • Utilise the colour wheel. • Incorporate symbolism and meaning into floral design. • Create an organic arrangement. • Successfully use colour as a design element. • Know to celebrate their heritage in floral design."
4.The Orchid bar
"By the end of this lesson, you should be able to: • Know which orchids are the best for floral design • Understand how to take care of orchids and be able to relate the importance of orchid care to your customer. • Be able to make an orchid arrangement. • Learn hints to help your orchids to re flower"
5.Hang it out to dry
"By the end of this lesson, you should be able to: • Understand the techniques and processes that are used today in floral preservation • Discover the latest worldwide trends in floral preservation • Understand the different types of arrangements that can be created using dried or preserved flowers"
6.Florist's got talent
"By the end of this lesson, you should be able to: • Look differently at the opportunities floral design can bring • Learn how floral designers are becoming floral artists • Using traditional art forms as inspiration • Explore how they can become more than floral designers • Answer the question if one should foster a certain media personality as floral designer."
7.Nostalgia
"By the end of this lesson, you should be able to: • Recognise the styles from the past and how they still influence us today. • Apply old styles to new interpretations • Understand the techniques of modern/contemporary floristry. • Explore philosophies that inform floral design • Construct our own contemporary design"
8.Festival floristry
"By the end of this lesson, you should be able to: • Recognise important world flower events • Discover competitions floral designers can participate in • Re evaluate your understanding of what floral design can be • Understand how to prepare for and participate in a festival or competition"