Organisational growth to a large extent relies on innovation. Without adequate knowledge and skills, key talent and ideas can be severly neglected, hampering innovation in many areas of an organisation. This course is built with the goal to familiarise students with the deeper concepts of innovation and to train leaders to take their organisations through the next growth phase.
Key Learning Objectives:
Recognise how innovation and growth are related

Recognise how organisational psychology aids innovation and growth in an organisation

Distinguish between a growth and fixed mindset

Understand the effect of conflict, collaboration, and competition on innovation and growth

Explore and apply the positive psychology movement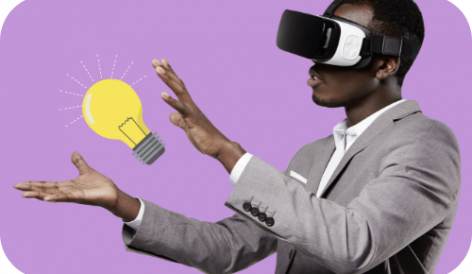 Aspiring leaders and managers, or anyone currently in a leadership and management position.
Develop leaders and managers equipped with the skills to build high-performing teams.
Upon completion of this leadership training course your employee will receive an accredited certificate assessed by global academic partner, the CPD Certification Service.

1.Innovation, the holy grail
Companies require one to apply creativity, and ingenuity and to innovate to solve an issue. Innovation in organisations is a highly desirable and sought-after trade. Companies want to be innovative, and in this lesson, we explore innovation, its benefits, and how to classify innovation.
2.Steering innovation
To drive innovation in your business or organisation, you need to understand what makes up innovation. An innovation is usually coupled with a quest to add more value to customers' lives, to bring something that gives them something better and different and more impactful. How do organisations become more innovative? In this lesson, we focus on the factors that drive innovation.
3.Introduction to org psych
In this lesson, you will be given a pragmatic understanding of the field of Organisational Psychology. The intention is to outline the scope of the field so that you have a clear view of what Organisational Psychologists do, and what their subject matter expertise is.
4.Growth mindset
The positive psychology game changer. Positive thinking does not mean ignoring the problem to focus on positive outcomes. I In this lesson, we unpack the idea of a growth mindset and identify why a growth mindset is so popular for the ultimate positive psychology thinking.
5.Conflict and collaboration
Teams drive up performance and make work more enjoyable. That is in a perfect world. In reality, teams can also drive the people who work in them crazy. They often experience conflict and competition; they can bring individual performance down and they can be a source of stress and unhappiness. So how do you get teams to do more than just work together, collaborate to get the best out of each other or manage conflict that inevitably happens? We answer these questions in this lesson
6.An overview of positive psychology
Curing the negatives does not produce the positives. Positive psychology is a particular way of seeing people and understanding the individual. In this lesson, we dive into the positive psychology mindset, and identify the key principles of positive psychology
7.Applying positive psychology at work
Positive psychology was born in the late 1990s, and this lesson is going to explore the effects of positive psychology on performance and understand how it can be useful and applied to the organisation of today.
8.Building Resilience
Resilience is a core skill to master to be successful within a work environment. Like building muscle, increasing your resilience takes time and intentionality. In this lesson, we define what resilience is, and what is it not, and get a better understanding of the contributing factors to resilience