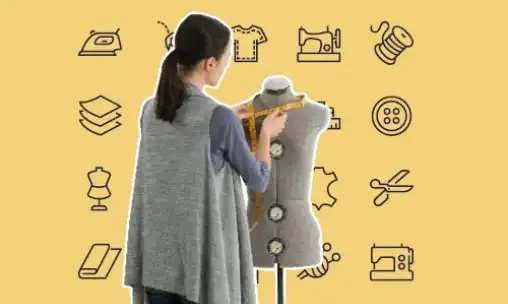 The course is based in 4 cross-disciplinary modules in which students will learn how to translate designs into physical garments. This course aims to expose students to the fundamental principles of pattern making in the hopes to encourage and inspire the creation of garments.

1.The evolution of pattern making
We are going to start this course by travelling back in time to investigate how pattern making started and how it has evolved into the art it is today.
2.The essentials of pattern making
In this lesson we will look at what you will need to start your pattern making journey. This lesson will also include common pattern making terms you can use to impress all your fashion design friends.
3.All measured up
Do you know what type of body shape you are? If your answer is no, then this lesson is perfect for you. We will explore different body shapes and how to style them to highlight your best features. You will also learn how to take your own or a client's body measurements.
4.The truth about textiles
Fabric makes the fashion designer's dream come true, so it is essential to have a good understanding of what fabric is, the different types of fabric that is available, and how to choose the right fabric for your design.
5.Fundamentals of fabric
Creating the perfect pattern layout is an art but it is also essential as the wrong layout can influence your design. In this lesson we will explore the different grainlines and how they can assist you to create the best layout possible.
6.Getting technical
To be able to create a pattern, you first need to analyse the design. In this lesson we will look at how to analyse a garment and how to interpret technical drawings of designs.
7.Commercial patterns
Have you ever bought a commercial pattern but did not understand it? In this lesson we will study commercial pattern so that you feel confident when purchasing the pattern of your dreams.
8.Delve into design
The first step to drafting a pattern is to design the garment. The Elements and principles of design is important to keep in mind and will inspire you to create something amazing.