Equip your teams with the skills to prepare, practice and deliver high-quality presentations to any audience of any size. Empower your teams with everything they need to become a skilled presenter, from dealing with presentation jitters to be able to present with confidence to designing presentations that effectively support the message of the presentation as well as professional writing skills to get your written word across and how to handle questions like a pro.
Key Learning Objectives:
Identify your target audience and choose a presentation platform

Choose your style and words to create the correct tone for your audience

Learn the importance of the opening, body and closing sections of a presentation

Unpack body language and gain insights on how to present for the day as well as how to handle questions and answers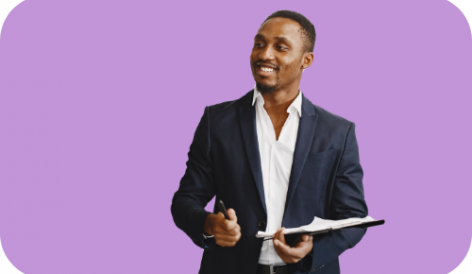 Anyone who gives presentations, leaders and managers, c-suite executives, sales people.
Provide teams with exceptional presentation skills.
Upon completion of this leadership training course your employee will receive an accredited certificate assessed by global academic partner, the CPD Certification Service.

1. Presentation Jitters
This is the introductory lesson for the course and in this lesson, you will learn how to identify and target a specific audience. You will also learn how to identify the type of presentation you are required to give and finally a guide on how to plan your workflow so that you can work freely and with as little pressure as possible.
2.Design
Lesson 2 deals with some options of presentation platforms so that you have some information to make the correct choice for you and your audience. We will explore how to choose your key topics that you need your audience to walk away with.
3.The best way to get your written word across
For this lesson, we will focus on how to align your tone with your audience by choosing to use specific words, phrases and framing. We will unpack how to design great-looking slides, and this includes your colour choice, fonts, images and graphs as well as the words you use. Finally, we will explain how to edit and proofread your slides for that polished look and feel.
4.Getting ready
In this lesson, we will focus on a few techniques that you can use to memorise your content so that you do not get tripped up on your big day. We delve into body language and how to use this effectively and finally, what to avoid when it comes to body language and expressions.
5. Cool, calm and collected
Learn how to prioritise self-care before your big day. We will explore some calming techniques like mindfulness and visualisation techniques that will help you feel confident and calm when it comes time to deliver your presentation.
6.Opening with style
This lesson explores some of the most effective techniques for opening your presentation. You want to create engagement when you open, and we will show you how to do just that. We will give you some common pitfalls of the opening section so you know what to avoid and we will give you some excellent tips on how you should be looking when you walk onto the stage. Without you looking your best, your presentation will not be received in the best way.
7.Closing with impact
During this lesson, we will explore some techniques that you can use when you close your presentation. We will explain how to signal to your audience that your presentation is over as well as what you may need to do after your presentation to make the most of the opportunity.
8.Handle Questions Like A pro
This lesson is all about how to answer questions and answer sessions in a manner that shows your knowledge as well as your confidence. We will unpack various things that you should and should not do when asked a question as well as several types of questions you could be asked. We will also give you some tips and tricks to respond to questions that you cannot answer yet.