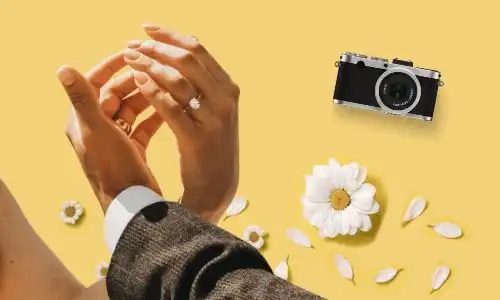 1.Getting started with Wedding Photography
Photographing weddings can be a very challenging but an extremely rewarding experience. It is also one of the most common areas for budding photographers to break into. So how do you separate yourself from everyone else? In this lesson we will look at a number of different styles, any of which can become your distinguishing style as a photographer. We will explore the different ways you can break into the industry, how to kick off your portfolio and then start promoting yourself.
2.Pre Wedding Planning
Taking on the responsibility of a wedding photographer can be a very daunting experience, however having structure and direction to your day will ensure you capture all those essential and memorable shots. Pre planning is an essential part of wedding photography and will ensure your day runs smoothly. We will take an in-depth look at the importance of great communication and planning to help achieve your vision for the day as well as the vision of the happy couple.
3.The Day Begins
The excitement is building and your work begins. In this lesson we look at what type of shots you should be taking at the early stages of the day. The beginning of the day is full of excitement, anticipation and emotion and some of the most memorable shots. Whether you start with the bride or groom, your approach can be the same. We will discuss the many different shots you can get from this time of the day and the technical considerations to achieve the shot you want.
4.The Ceremony and Couple Shots
The ceremony is what the day is all about. Lesson 4 will look at how to approach any type of ceremony, capturing the key shots and developing an eye for all those gorgeous little extras. Once done here we will move on to another very important set of photos, those special portraits of the happy couple. There are many variations of shots, styles and poses you can use here as well as many technical considerations. These can be the most creative shots of the day so your aim is to wow the couple with these.
5.The Group shots
The group shots can be incredibly fun or incredibly stressful. With the right approach you will love capturing these shots and the entire wedding group will love you. From the traditional, to the fun and quirky, there are many styles and we will look at many examples while discussing the practical and technical considerations.
6.Candid and Evening Shots
So all the formal shots are done and now everyone starts to relax. While you should be aiming to get candid shots throughout the day as a photographer but the evening can be an amazing time to get some fantastic candid and atmospheric shots. If you are staying late into the night, it is a great opportunity to get extra shots that will impress your clients.
7.Post production & Wedding workflow
By the end of the day you have potentially taken 1000s of images. Post production can really take your images to a new level. There are so many styles and looks that can add a new edge to your work and also help develop your style as a photographer. Lesson 7 takes a look at the variety of post-production processes to get that professional finish.
8.Presentation Options
When all the hard work is done and your images are looking stunning and professional, it is time to consider the presentation of your work. With the 100s of different suppliers offering 1000s of different products it can be daunting to know what is best to offer your clients. This final lesson looks at some of the most popular products which will show your work off to its full potential and build your reputation as amazing wedding photographer.