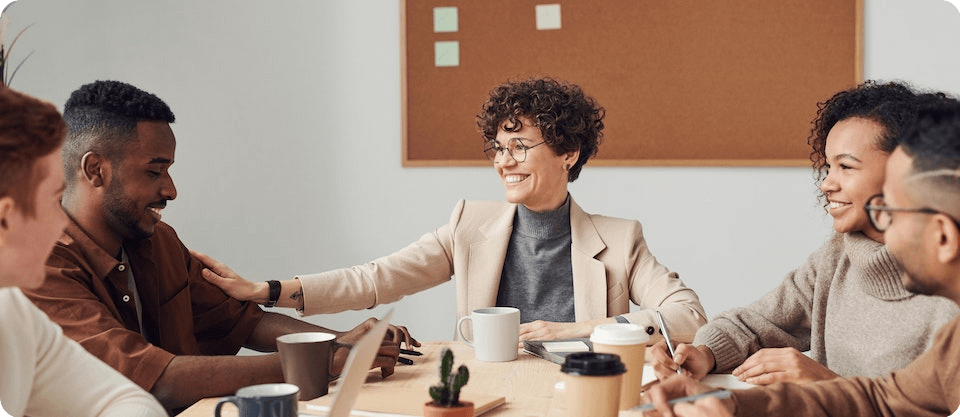 2023 Workplace Trend: Diversity, Equality and Inclusion in the Workplace
In our most recent eBook , we explore five workplace trends that businesses can't ignore in 2023. Our third trend is Diversity, Equity and Inclusion in the workplace. 
In an article by Fast Company, they report that one of the workplace and hiring trends that Glassdoor and Indeed predict for 2023 is an increased emphasis on diversity, equity, and inclusion (DEI). However, this trend differs among generations of workers. 
"Researchers found a significant generational divide when it came to attitudes toward DEI initiatives. While 72% of workers ages 18 to 34 said they would consider turning down a job offer or leaving a company if they did not think that their manager (or potential manager) supported DEI initiatives, that attitude changes with each older age group: just 63% of those ages 35 to 44, 60% of those ages 45 to 54, 52% of those ages 55 to 64, and 45% of those over the age of 65 said the same." (Hess, 2022) 
In the same article mentioned above, DEI expert and founder and CEO of The Resource Key, Jourdan Saunders, says she is not surprised by this generational gap. She adds that "younger age groups are more passionate about DEI initiatives. And ultimately, businesses have a responsibility now more than ever to invest in those initiatives."
Showing diversity, equity and inclusion in the workplace will also show employees that you care for their health and well-being. 
Studies have shown that this can lead to an increase in performance, a greater effort by employees, a reduction in staff turnover, and higher employee satisfaction. Including diversity, equity and inclusion in the workplace is proven to increase revenue, assist in decision making from upper management, obtain a higher rate of acceptance for positions, and better overall company performance.
Diversity, Equity and Inclusion all build upon one another, and aiming to achieve diversity in a company cannot be truly achieved if equity and inclusion have not been considered. Without these two factors, true diversity will never be achieved.
Defining diversity, equity, and inclusion Dr Robert Sellers, Chief Diversity Officer at the University of Michigan, breaks down the distinction between the three terms in a somewhat light-hearted, but highly illuminating way:
Diversity is where everyone is invited to the party

Equity means that everyone gets to contribute to the playlist

Inclusion means that everyone has the opportunity to dance
Diversity is identified by different characteristics in a group of people, which make each person unique. Having diversity in a workplace leads to a deeper understanding of each person employed by the company. Diversity celebrates and embraces the differences in each person and contributes to a better working environment.
Diversity includes race, ethnicity, gender, physical ability, religion, personality type, thinking strategies, learning styles, culture, knowledge and experience.
By creating diversity amongst these factors, nurturing them, and creating a safe, positive workspace, diversity can be achieved.
No matter how diverse the team is, to obtain equity, everybody should be treated fairly, and equally. The needs of each individual in the workplace should be considered, and equal opportunity should be provided to the entire workforce.
Equity and equality should not be confused. Although sounding very similar, equality is recognising individual traits rather than treating everyone equally.
An organisation can be as diverse as it would like, but the key to maintaining a diverse workplace is inclusion.
Inclusion creates an environment where everyone feels included and belongs, and no one is excluded. There are no barriers in the environment and no discrimination against individuals, teams, or management. Each employee is given a chance to excel in their field within the organisation.
If you have a diverse workforce, inclusion can be how a voice is given to each employee.
How to improve diversity, equity and inclusion in the workplace
The first step which should be taken is to analyse the workforce and identify if there are any inequities. The best way to collect data is from the employees' views, as no one better represents the company and the internal experiences of working for the organisation.
How can data be collected?
Regular surveys- not just one survey, this should be done regularly.
Ensure that employees are aware of why the survey is being conducted and how data will be used- gaining trust leads to employee happiness.
Use surveys that do not identify who the individual is but rather use the answers to compile the information.
Small group gatherings with open discussions or one on one meetings can also be done to obtain this data. However, people feel more inclined to put their thoughts to paper rather than speak their minds. You might achieve better results by using employee surveys.
After analysis of the data, the key areas need to be identified.
Key issues that might be identified are based on race, gender and language and culture.
Once these issues have been analysed and identified, the key or recurrent issues will be raised. Management would then become aware of where employees feel that the company lacks diversity, equity and inclusion and how change can be implemented.
Once the key factors have been identified, it is then a lot simpler for management to take action to address the issues and make the change.
Companies would need to start looking into their policies and procedures to determine where the change could start.
Issues like age, race, religion and politics should be addressed.
Employers can bring awareness to employees that they are trying to achieve diversity, equity and inclusion in the workplace in the following ways:
Training and events surrounding DEI in the workplace

Engaging in discussions with employees about DEI, whether on a company level or in teams

Continual review of policies to promote DEI

Team building activities

One on one meetings and open-door policies

Regular meetings and dialogue surrounding the issues identified
Once diversity, equity and inclusion actions have been compiled, analysed, and addressed, change then needs to be implemented.
A plan of action needs to be developed by the company on what changes are going to happen and how the change will be implemented.
Communication surrounding this should inform, educate, and engage the employees. Communication should be carried out in different methods, as employees may understand messages/ communication differently, and all employees should feel included.
Communication can be carried out via email, company social networking, workforce communication platforms, newsletters, and presentations sent to employees regularly.
An action plan with realistic goals should be shared with employees. 
This action plan should begin addressing the largest issues identified first and then work on the minor issues. It should also include the length of time these plans would take to come into effect and how they will be implemented.
The changes made to an organisation should be reviewed regularly. This can be done by sending out surveys, conducting in-person meetings with employees, or team feedback meetings. An employee should observe that issues raised are being addressed and continually monitored to notice a change in the workplace.
Along with the initial issues that may have been identified, any factors that are raised in the re-evaluation process should be shared with employees, as well as the steps that are going to be taken to achieve diversity, equity and inclusion.
The goal is for the employees to notice an improvement in diversity, equity and inclusion in the workplace. This improvement should be continual, not just a once-off action that employers are taking.
Benefits of Diversity, Equity and Inclusion in the workplace:
Increase total employee experience

Increase work productivity

Improved employer vs employee relationships and improved co-worker relations

Reduced stress on management and employee, leading to better health

Increased trust in employer and organisation

Decreased staff turnover with a greater commitment to the organisation
To learn more about how Upskillist can help you click the button below