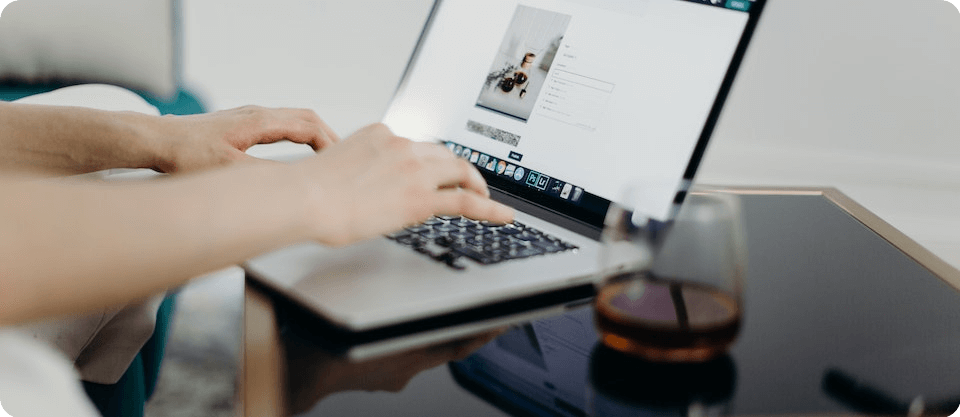 How do B2B brands achieve the most success on social media
You already know what social media is, but for the sake of clarity, Investopedia defines it as "a computer-based technology that facilitates the sharing of ideas, thoughts, and information through virtual networks and communities". But why social media for business-to-business (B2B)?
Social media is internet-based and allows users to share content such as personal information, documents, films, and images in real-time. Users interact with social media using web-based software or applications on a computer, tablet, or smartphone.
The power of social media to create awareness of global matters has been profound, to say the least, reaching people across the globe in 193 countries simultaneously. This presents an unprecedented opportunity for businesses to introduce their products or services in markets that would otherwise be very challenging to reach. 
The initial intention of social media was to connect friends and family through a virtual platform, but the industry quickly gained popularity for being able to reach new markets in a significantly cheaper manner.
Why use social media for B2B marketing?
Social media for B2B marketing is a fantastically powerful way to introduce your business and engage with prospective and existing customers. Although most of our usage of social media goes toward sharing media with family and friends, the power of social media to reach different businesses is very enticing. 
Business-to-consumer (B2C) companies use social media channels to reach consumers and influence purchases. To effectively perform B2B marketing on social media, you will need to employ a slightly different strategy compared to that of B2C marketing campaigns. 
As more firms succeed in experimenting with digital advertising, they're recognising that using social media advertising makes perfect sense. This is why:
When compared to traditional sources of advertising such as print media.

In comparison to TV and radio advertising, social ads are not only more trustworthy but also less expensive.

Furthermore, you are permitted to interact on numerous social media networks for free before expanding with sponsored advertisements.

You are free to develop at your own pace.
Unlike social media advertisements, traditional advertising does not allow you to reach out to your intended demographic.

When you conduct generalised advertising such as television or radio, you are taking a risk. Social platforms can help identify typical users of your product or service and show your advertisements to more appropriate users. 

You can reach out to targeted consumers, increase conversions, and ultimately obtain a greater return on investment by using targeted social media advertisements.
Real-time performance analysis:
Knowing whether or not your ad is working is critical for improving it.

You can't assess the performance of your marketing campaign while you're performing offline advertising such as radio, television or billboard ads.

Paid social media advertising allows you to continuously monitor how successfully (or poorly) your ad is performing.

Based on the results of the analytics, you may update your ad on the fly and see the results right away.
Social media strategy for B2B marketing
B2B businesses can be successful on social media by turning their specialised service or product offering into an engaging and attractive playground for social media. Admittedly, this is easier said than done, but with the right tools and knowledge, you too can guide your business's social media activity into engaging and attractive content to draw new B2B users to your platform.  
To be successful at social media marketing, especially for B2B marketing, you need to pay special attention to the content of your business posts, as well as how the content performs. This means that your goals and attempts should be measurable, attainable, relevant and time-bound. Let's review some popular (and tested) social media marketing strategies that your business can employ today to improve engagement, awareness and sales of your products or services. 
Every marketing strategy, whether online or offline, needs to be based on certain goals that the business wants to meet. Key Performance Indicators (KPIs) are the results of your marketing efforts in analysed and summarised formats, such as a graph or percentage that indicates growth, reach, engagements or conversions. 
A social media marketing course will improve your awareness of the different types of social media engagement and communication – and help you get started. Let's look at four factors that you need to consider when creating a B2B marketing strategy that will increase your brands' popularity and sales through social media marketing.
The SMART goals are aligned so that you can easily distinguish between the important aspects of your marketing campaign on social media for B2B marketing. The SMART acronym stands for Specific, Measurable, Attainable, Relevant and Time-bound. Let's break each of these down and clarify what we mean by SMART goals.
Specific:

You want to boost your business' brand awareness by posting regularly on Instagram, Facebook, Twitter and LinkedIn. The aim is to increase the number of posts from 3 to 7 times a week on the different social platforms. You believe this will be sufficient to increase your customer base and reach.

After the first month, you analyse the goals and align them with the outcomes. This is where the analysis of your efforts is reviewed, scrutinised and optimised. 
Measurable

: Your business' engagement rate increased by 4% over the last 30 days

Attainable

: Over the course of the last month your business increased the weekly frequency of publishing on social media, which resulted in a month-on-month increase in new users of 2%.

Relevant

: By increasing the engagement rate, you'll bolster brand awareness and generate more sales leads – which in turn gives your sales representatives more opportunities to sign up new clients.

Time-bound: By the end of the month you analyse performance, and at the end of two months you measure the effect that this new strategy had on month-on-month growth.
2. Share original content
Many companies build their social media presence by curating material from other pages. The reality is that your audience can easily recognise the difference between material that is unique and creative and stuff that you provided only to show that you were active on the platform that day.
Social media should be more than just a means of dissemination. To have a positive influence on their brand, social media marketers must also be content creators.
It's understandable if you're having problems coming up with unique material for every platform on a daily basis. If you don't have the time or resources to post on every platform, focus your efforts on the channels where your business has the biggest audience as it currently stands.
Creating and releasing multimedia for your social media platforms adds a level of intrigue that will help you capture the attention of your target audience. Whether it's audio, images or video content, a variety of media types is always welcoming and engaging to new as well as existing users. 
Consider platforms such as Twitter. If all you saw on Twitter were text-based updates, you'd grow bored very soon. Twitter's addictive nature stems from the fact that each Tweet offers something different. A meme, a poll, a movie, a picture collage, and a gif may all be found in a 10-second browse. The same applies to your brand's feed. The bigger the variety of media types you post on your business pages, the more likely engagement and conversion rates are to increase.
4. Have a distinct brand voice
When your organisation publishes a blog, modifies a pillar page, or posts on social media, you have an opportunity to display your brand voice. Customers should be able to know your brand voice in the same way that they recognize your logo. Your social material, like any other marketing asset, should constantly be linked with your company's position. To develop a brand voice, here are some tips:
Clarify your organisation's mission and vision

. What are you hoping to achieve, and how will you get there? The personality you want your voice to reflect is informed by your objective.

Establish your values and culture

. What do you value the most and what characteristics do you want your brand to be associated with? Your beliefs and culture will help you determine who your target audience is and how to communicate with them.

Consider your brand to be a person.

Is your brand a sweet kindergarten teacher, a feisty fashionista, or a rough adventurer? Consider the communication style that individuals would use—and hence the communication style that your brand would use—and how they would come across.

Determine your tone objectives.

While your voice should be constant across all channels, your brand tone may vary depending on the channel and scenario.
The value of social media in business can only be realised once you put what we've talked about into practice. If done correctly, social media marketing may be extremely cost-effective in the long term. Even sponsored social media efforts, such as Facebook Advertisements, are less expensive than other types of advertising, such as search engine ads. As a result, the return on investment is larger.
B2B marketing on social media is more common than you might think and it's a very valuable and powerful tool to grow your brand and business – both in terms of generating sales leads, awareness of your offering and creating a positive image for your business.
To learn more about how Upskillist can help you click the button below :