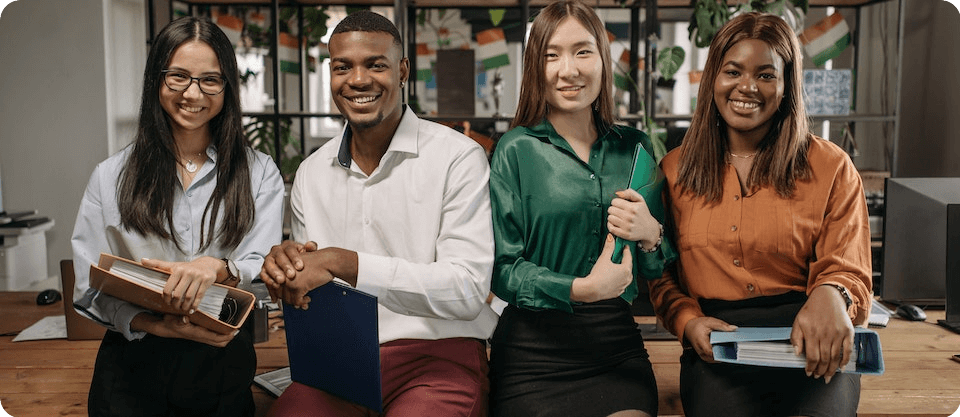 SNEAK PEEK: Workplace trends that will define 2023
We have put together an eBook on the top 5 workplace trends we believe you should be focusing on in 2023 – and the results may surprise you.
Here is a sneak peek into these trends and some key insights from the eBook:
Workplace Trend 1: Flexibility
The number of remote-first companies continues to multiply as we discovered that employees could be as productive, if not more productive, working from home – and just as many companies are adopting a hybrid working approach. 
Ultimately, remote and hybrid work models are here to stay for the foreseeable future. The sooner we accept this new normal, the sooner we can adjust, optimise and grow.
Workplace Trend 2: Wellbeing
A focus on mental well-being will be paramount this year with potential global recessions taking place. Inflation is becoming unbearable for many and causing higher energy and food costs etc. There is a real importance of enthroning mental well-being and focusing on the extra pressures being experienced by employees – mental well-being management will be essential. 
Companies need to start creating a cultural norm around discussing mental health and overall well being so that employees feel comfortable coming forward if they face issues affecting them. Supervisors and leaders should be equipped with skills to identify when an individual is struggling and to recommend resources to get the relevant help for employees.
Workplace Trend 3: Diversity
In an article by Fast Company, based on predictions from Glassdoor and Indeed, they predict that one of the workplace hiring trends for 2023 is an increased emphasis on diversity, equity, and inclusion (DEI). 
A culture of diversity, equity and inclusion in the workplace shows employees that you care for their health and well-being. Studies have shown that this can lead to an increase in performance, a greater effort by employees, a reduction in staff turnover, and higher employee satisfaction.
Workplace Trend 4: Employees
A Fast Company article cites a report in which they suggest that despite the concerning job cuts at high-profile tech companies, workers will still have the upper hand in the labour market this year.
The tides of power are shifting. Organisations need to adjust their thinking to one of thinking of employees as partners contributing to the greater good and success of the company. Businesses that do not offer benefits in some form or another will ultimately battle to hire top talent, settling for mediocre employees at best and ultimately may not succeed in future.
Workplace Trend 5: Empowerment
The Great Resignation seems to have provoked a large amount of self-examination by employers, leading to improved working conditions, particularly within the tech sector. While the pandemic further sparked a wave of workers demanding a better work-life balance and deciding that enough is enough sent shockwaves through the labour market – which in turn – has made companies take a hard look at what employees want when it comes to their working environment. 
Ultimately, the wider change in the world of work means that companies need to understand that in order to succeed in the future, they are very quickly going to have to make employment within their organisation an attractive environment to work in, with varying benefit offers to assist and better support their employees. 
Learn more about each of these trends and how to address them in our 2023 Workplace Trends eBook!
To learn more about how Upskillist can help you click the button below