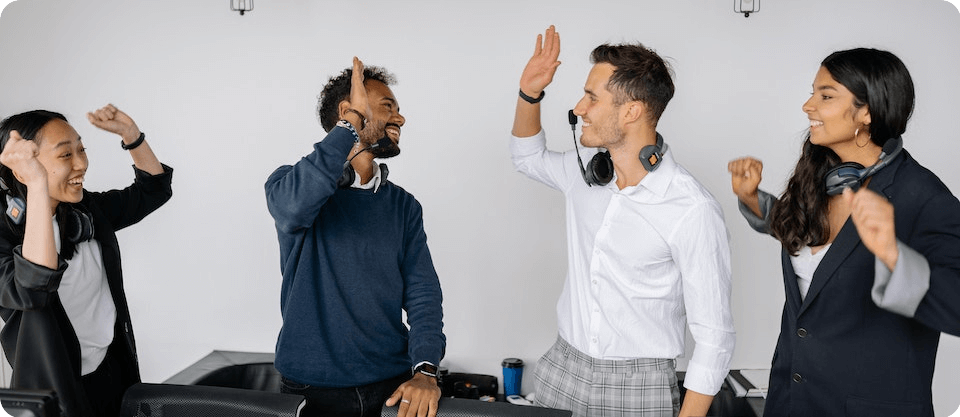 2023 Workplace Trend: Employees hold the winning cards
In our most recent eBook, we explore five workplace trends that businesses can't ignore in 2023. Our fourth trend explores how employees hold the winning cards in the current labour market. 
In a Fast Company article, they say that despite the concerning job cuts at high-profile tech companies, the report suggests that workers will still have the upper hand in the labour market next year.
The article continues to quote Chief Economist at Glassdoor, Aaron Terraza, who says that "as a result of recent news about layoffs and hiring freezes, it seems natural that the unemployment rate will increase over the next few months—coming off historic lows." He continues to explain that "as big as they may feel, it's important to keep in mind that recent layoff announcements—which total in the tens of thousands—are a tiny fraction of the 160 million jobs nationwide."
Terrazas and his team suggest that even a recession will not significantly impact the labour market because the working-age population continues to fall in countries like Canada, China, France, Germany, the United Kingdom, and the United States. "This limited supply of workers is expected to keep employers hungry for talent and to limit dramatic spikes in unemployment." (Hess, 2022)  
The Fast Company article also states that the "economies of many countries could slow or even fall into recession as central banks work to lower inflation. However, it's likely that even if employers' hiring appetites fade, the supply of workers seems likely to remain tight in the long run," reads the report, citing falling shares of workers between the ages of 25 and 54. 
"Despite looming talks of recessions, Indeed and Glassdoor economists believe that hiring will remain challenging for years to come, driven by demographics and evolving preferences. Workers will continue to have the leverage to press for higher pay, stronger benefits, scheduling flexibility, and a variety of other perquisites." (Hess, 2022)  
According to Glassdoor and Indeed's Hiring and Workplace Trends report, next year will continue to see a tight labour market with employers vying for top talent in 2023. As a result, it means workers will still hold the winning hand when it comes to demanding higher pay, benefits, flexible work options and other perks.
How companies can combat a tight labour market
Did you know that losing a skilled employee is estimated to cost an organisation up to 33% of the employee's annual salary? (ApolloTechnical, 2022) 
Relationships, experience and the cost of training already invested in the individual are lost, not to mention the impact on the morale of the remaining employees. 
Research suggests that 75% of retention loss can be prevented by:
Creating training and development opportunities for new employees 

Improving communication between managers and staff

Clarifying job expectations and deliverables

Adequately delegating resources • Recognising work well done – preferably on a public forum

Providing adequate feedback on performance issues

Reducing staff turnover to secure overall employee morale
For this reason, a company not only needs an exceptional recruitment policy but a fantastic onboarding programme as well as a comprehensive, well-structured learning and development strategy.
Investing in leadership, teamwork, communication, time management, and creativity across all positions is sure to improve employee retention.
Work flexibility is also a great way to attract and retain talent. According to an article by CareerFoundry, the search term 'The Great Resignation' now has 380 million results on Google, and reports indicate there's a little slowdown in sight, as 36% of workers in the US plan to leave their job in 2023.
According to CareerFoundry, this is perhaps the biggest shift to affect the labour market in generations, and it's an understatement to say that the seismic effect on the workplace in 2023 will continue. (CareerFoundry, 2022)
The article quotes Chief Economist at Glassdoor, Aaron Terrazas, who says that Glassdoor data shows that remote roles consistently generate more interest from job seekers. Organisations that offer fully remote options naturally have access to a much deeper talent pool. 
The Four Day Work Week White Paper supports this, having found that 63% of businesses found it easier to attract and retain talent with a four day work week. In addition to this, Indeed has seen 8.6% of US job postings mention remote work (up from 2.9% before the pandemic) and 9.8% of workers' job searches mention remote work (up from 1.7%).
Employee engagement is paramount
Sadly, only 20% of employees are fully engaged at work. (Upskillist Soft Skills Impact Report, 2022). So how can organisations improve engagement in the workplace?
Recognising a disengaged employee
Employees who are disengaged start to show a decrease in productivity. Your top-performing employees would start to produce at the same level as your average employee, and your average employee would produce the bare minimum to get by. 
A content employee who suddenly starts arguing a lot more or an employee who used to contribute a lot suddenly becomes a quiet employee who no longer engages is a sure sign that an employee has become disengaged and unmotivated. 
An employee is no longer engaged in their work when: 
They stop contributing their opinions 

They are no longer creative

They no longer contribute to the team

They no longer take the initiative, and rather just follow instructions
Use learning and development programs to boost employee engagement
Providing employees with learning opportunities can increase employee engagement. That's correlated with higher profits, lower absenteeism, better productivity and increased innovation. 
Employees feel more valued when they have access to ongoing training and development. Emphasising the importance of on-the-job training creates a supportive workplace, and employees who feel appreciated and challenged have greater satisfaction toward their jobs and boosts their morale – motivating them to approach their job duties with more self-confidence.
Learning and development tools also build the employee's confidence because they have a stronger understanding of the industry and the responsibilities of their job. This confidence could very well push them to perform even better and think of new ideas that help them excel and go above and beyond. 
Download our full eBook to learn more about some of the other 2023 Workplace Trends.
To learn more about how Upskillist can help you click the button below