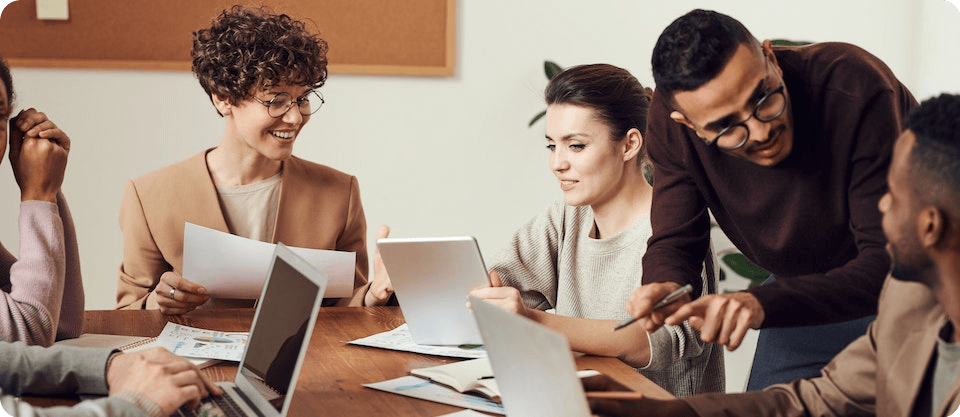 Why workplace learning isn't just an employee benefit, but a strategic business move
You would think that the workplace isn't the place to be learning. Shouldn't it be the place where you walk in and know what to do. Well, yes, to some extent, but also no. Not when the reality is that we all have different strengths and weaknesses, that someone who is new to an industry or even organisation or job requires some form of learning curve and not when the only constant is change.
Why is it important to learn in the workplace?
Workplace learning presents an opportunity to expand the knowledge and skills of all employees. It can help the company's mission and vision and is recommended as a tool to engage employees and invest in the growth of the company. Learning and development offers a good opportunity for teams to grow their knowledge base and improve their job skills to become more effective in the workplace. Despite the cost of training for employees, the return on investment is endless if training is consistent. After all, if your company shows they are investing in you, aren't you more likely to invest in them?
The importance of learning and development for the organisation's future
The latest research found that training for soft skills and enhancing interpersonal (or more human) skills is a key trend for talent development in the foreseeable future. Driving this is a surge of industry change, automation, and technological advancements. The modern workplace requires adaptable, critical thinkers who can communicate effectively and are aware of their value as well as their areas of development. The Upskillist skills gap analysis enables you to identify individual or group strengths and areas of growth, and can reveal skills gaps in your team that need to be filled.
Create a strategic development plan
According to the World Economic Forum, 50% of employees will need to be reskilled by 2025. As the skills gap continues to widen, employers need to take the initiative in training employees to reskill and upskill them. The steps involved in creating a development plan begin with establishing business goals. Upskilling and reskilling efforts can sustain and fuel company growth. In planning for future growth, and creating training solutions that target those goals, L&D needs to collaborate with all stakeholders to identify current and future skills gaps.
Regardless of whether a company has existing, functioning training programs, employee development won't ever be effective if the work environment doesn't accommodate – and encourage – continuous learning. Organisations need to support a culture of constant development that is able to recognise overall industry change and provide relevant training to overcome the challenges that may arise from such changes.
The benefits and value of training and development act like a domino effect; leaders feel competent and can efficiently influence employee performance; skilled and engaged employees result in high job satisfaction, commitment, and thus retention; workforce improvement and engagement benefits an organisation's overall profit. Despite the type of training and development provided, it needs to align with future workplace skills, support the company's business objectives, and be delivered in an innovative way that mirrors the digital transformation in the business.
Upskillist can guide you as your learning partner, and help your organisation create a tailored upskilling or reskilling plan to meet your unique industry needs.
Reasons to offer employees learning & development opportunities
If you want to retain employees, you need to invest in their growth, learning and development. The current state of career growth opportunities is dismal. According to the July 2021 Monster Job Index: 80% of professionals don't think their current employer provides growth opportunities. 54% of employees fear they don't have the skills they need to thrive in a workforce that emphasises collaboration using technology. 49% of employees expect their employer to support career growth. 
One way to help your employees grow their careers is to provide learning and development opportunities.
Here are 5 reasons to offer employees learning & development opportunities:
Learning and development are often named as one of the top benefits employees want from an employer. A study by Indeed found nearly one-third (32%) of tech workers said self-improvement, either through employee development or via tuition reimbursement, was the most-valued characteristic of their job. That benefit beat out health and wellness programs and in-office perks. 
A study of 2 000 professionals by Better Buys echoes that sentiment. The survey found that:
92% of employees think having access to professional development is very important or important.

Employees with professional development opportunities have 34% higher retention. 

Employees with professional development opportunities are 15% more engaged at work.
Learning and development can help you recruit better talent and retain employees. LinkedIn's 2019 Workforce Learning Report found 94% of employees said they'd stay at a company longer if it invested in helping them learn. 
Providing employees with learning opportunities can increase employee engagement. That's correlated with higher profits, lower absenteeism, better productivity and increased innovation. 
When you hire employees, you can develop career path journeys with them. Talk with employees about what their career goals are. Then offer training that can help them achieve their goals at your company.
2. Upskilling helps you stay competitive
Technology has quickened the pace of how skills need to evolve in order for workforces to stay competitive in a global economy. In-demand skills are changing so rapidly, the World Economic Forum predicts nearly half of core skills will change by 2022 alone. A 2020 report by McKinsey & Company stated that up to 40% of all workers in developed countries may need to move into new occupations or at least significantly upgrade their skills sets.
Upskilling is so important, the World Economic Forum launched a Reskilling Revolution in 2020. The initiative has a goal of providing 1 billion people with improved skills, education and jobs by 2030. 
Learning and development opportunities can fill in skills gaps at your business and combat any weaknesses your company may be facing. Instead of taking a risk and hiring someone externally who may not be the right cultural or professional fit when you need to address a skills gap, you can address that from within, plus save time and resources.
3. L&D builds a pipeline of leaders
When you develop your employees, you can create a strong pipeline of talent. That means you can promote from within and cut down on costs for recruiting, interviewing, hiring, onboarding and training. 
Upskilling your current workforce can help you develop better managers and leaders. Your current employees know your company's vision, culture and operations. You don't lose out on productivity when you promote from within.
Employees who see upward mobility in a company may be more likely to stay, too. The cost of employee turnover is at least 1.5 to 2 times an employee's annual salary, according to Gallup research. That can add up quickly the higher the position an employee is in. 
As you train your employees and fill in skills gaps, you can optimise your hiring as well. You'll know exactly what your employees are capable of, so you can make new hires that complement your workforce's current skill set. 
4. L&D encourages innovation
Learning and development unlocks higher potential for your workforce. According to Deloitte research, organisations that have a strong learning culture are 92% more likely to develop novel processes and products. Training programs expose your employees to new ideas and ways of doing things, which they can apply in their current or future roles. 
Another way learning and development can lead to innovation is that it can reveal untapped talent in your employees. Your employees may not be aware of what their own strengths are. Training programs can expand employee knowledge and lead them to pursuing new duties and roles within your company that benefit your business's bottom line. 
According to Gallup, strengths-based development results in a 9% to 15% increase in engaged employees. It also contributes to a 14% to 29% increase in profits. Learning and development can help employees discover their strengths or enhance their current ones.
5. Add Credibility to Your Workforce
Another benefit of workplace learning is that they offer proof that your company invests in employees and strives to develop skills across the workforce. Upon completion of training programs, your individual employees can add certificates or credentials to professional profiles like LinkedIn pages. You can add badges and list credentials on your company website, as well.
This type of education acknowledgement may help your business:
Win clients

Attract better talent

Instil pride in your employees

Boost your profile within your industry
How training and development of employees benefits an organisation
Workplace learning benefits both employees and organisations as training improves efficiency and productivity of employees. Well trained employees show both quantity and quality performance. There is less wastage of time, money and resources if employees are properly trained.
Here are just a few examples of what hinges on the success of training and development programs:
Let's try to make the new job honeymoon period last, shall we? The onboarding experience is the first glimpse that many new employees have into how an organisation really operates. The overall objectives of training and onboarding are to boost safety, belonging, and mattering in an effort to increase engagement, retention, performance, clarity, and culture. 
That's a big deal. In fact, according to an article by the Society for Human Resource Management Foundation, 69% of employees at one organisation surveyed were more likely to stay with that organisation for up to three years if they had a good onboarding experience. Moreover, new employees decide within the first 90 days if they are going to stay awhile, or if they will only stay until they find a better opportunity. That means that an employee onboarding strategy really matters.
2. Formalised knowledge sharing
A structured learning and development program also ensures that employees have a consistent learning experience and correct background knowledge. The consistency is particularly significant for your company's basic policies and procedures—it sure helps if each and every employee is aware of the expectations and procedures within the company. Providing teammates with regular training in these areas ensures that everyone has exposure to the material and awareness of resources, at the very least.
3. Strengthening of internal weaknesses
Like it or not, the reality is that most employees have some weaknesses in their workplace skills—and most organisations have gaps or weaknesses in their training processes, too. The purpose of training and development is to give both parties the opportunity to strengthen those skills through learning and development objectives. A development program brings employees to a higher level, so they all have similar skills and knowledge, which helps reduce any shortcomings within the company.
4. Engaged and retained employees
The truth is that employees really do feel more valued when they have access to ongoing training and development. When a supportive atmosphere is created, employees are able to receive training they might not have had access to or sought for themselves. Emphasising the importance of on-the-job training creates a supportive workplace, and employees who feel appreciated and challenged have greater satisfaction toward their jobs.
When I hear the word 'morale,' I envision happiness. At the very least maybe even some skipping through hallways! Employees of organisations who go through training programs will feel like they are part of a supportive work environment where they are appreciated, which will boost their morale and make them approach their job duties with more self-confidence. And skipping.
6. Improved productivity and performance
An employee who receives training is better able to perform their job! Okay, so maybe this isn't breaking news, but it's important nonetheless. Learning and development tools also build the employee's confidence because they have a stronger understanding of the industry and the responsibilities of their job. This confidence could very well push them to perform even better and think of new ideas that help them excel. Wouldn't that be great?
7. Increased customer satisfaction
When employees of an organisation are exposed to consistent training, it improves their skills on the job and makes them work more professionally and productively. As a result, customers will feel the impact of this elevated service, and it will likely improve their opinion of the organisation. That's known as a little something called a 'win-win,' folks.
Popular topics of employee training
Effective communication: Workforces increasingly consist of a wide variety of languages and different customs,

understanding different communication styles

can assist employees in navigating differences effectively to build more productive teams who are both successful and satisfied. 

Computer skills:

Computer skills

are becoming a necessity for conducting administrative and office tasks.

Customer service: Increased competition in today's global marketplace makes it critical that employees understand and

meet the needs of customers

.

Diversity: The increasing diversity of today's workforce brings a wide variety of different perspectives and views, staff should be empowered with techniques to value diversity and

create a workplace of inclusivity

. 

Ethics: Today's society has increasing expectations about corporate social responsibility. Also, today's diverse workforce brings a wide variety of

values and morals to the workplace

.

Human relations: The increased stresses of today's workplace can include misunderstandings and conflict.

Conflict resolution training

allows people to get along in the workplace and skilfully navigate daily communication obstacles due to differences in perceptions, opinions, meaning and values.

Quality initiatives: Initiatives such as Total Quality Management, Quality Circles, benchmarking, etc., require basic training about quality concepts, guidelines, and standards for quality, etc.

Safety: Safety training is critical where working with heavy equipment, hazardous chemicals, repetitive activities, etc., but can also be useful with practical advice for avoiding assaults, etc.

Sexual harassment: Sexual harassment training usually includes careful description of the organisation's policies about sexual harassment, especially about what are inappropriate behaviours.
With the right training in place, employees are better at their jobs, and the benefits of training and development in an organisation will shimmer and glow! Providing the necessary training creates an overall knowledgeable staff with employees who can take over for one another as needed, work on teams, or work independently without constant help and supervision from others.
Workforce training has been repeatedly proven to have real benefits for businesses. If you're part of an organisation that's considering or planning to ramp up learning efforts, now's the time. Enjoy the benefits of training and development with our upskilling variety.
To learn more about how Upskillist can help you click the button below